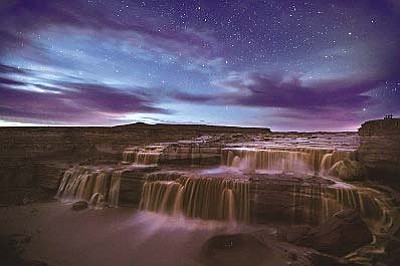 Originally Published: December 19, 2011 8:01 a.m.
Goldenstein Gallery is delighted to announce that landscape photographer Shane McDermott's stunning image, "Heaven and Earth," has been selected by Arizona Highways Magazine as one of the 50 Best photos of all time. This is not the first time his work has been recognized by Arizona Highways. His photos were featured in the July issue and another photo of his graced the August cover of the iconic magazine.
According to Arizona Highways the December issue was a major undertaking, months in the making and probably one of the most difficult issues to put together in the magazine's storied history. The issue features the magazine's 50 greatest photos of all time. Arizona Highways is known for its incredible photography, so choosing the 50 best was no small feat.
This is the first time Arizona Highways has done this kind of issue. They started with about 10,000 photos dating back throughout the illustrious publications 88-year history. The December issue of Arizona Highways is on newsstands now.
Shane McDermott's spectacular "Heaven and Earth" is an image of Grand Falls taken 15 minutes after sundown. It was months in the making to capture the right moment.
He first discovered nature photography while on safari in Africa during the summer of 2004.  It was these first experiences behind the camera that captured his heart and imagination, igniting a deep passion and desire to learn and master the craft of photography.  His fascination with nature, felt like it had deep and distant roots reaching back his early childhood days.  Countless hours as a youngster were spent either in nature, or drawing images of nature and wildlife.  With his discovery of photography, it seemed to be the perfect creative opportunity to rekindle and re-imagine his lifelong love and relationship to the natural world.
 McDermott strives to push both the edges of his art and capacities to see and relate to the natural world in extraordinary and meaningful ways.  He invites viewer to join him on a journey of celebration and discovery, exploring our planets endless wonders of life and beauty.
Professionally McDermott has been recognized and acclaimed as one of the most innovative up and coming photographers of his era.  His evocative images can be seen at Goldenstein Gallery in Uptown Sedona.
Goldenstein Gallery is located at 390 N. 89A in uptown Sedona and is open daily with ample parking available behind the gallery. Please find them on Facebook or call (928) 204-1765