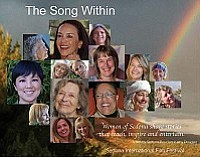 Originally Published: February 15, 2011 10:37 a.m.
Mirdad Films, Inc. announces the world premier of their first Wise Women Circles Film at the 2011 Sedona International Film Festival. The Song Within, a feature length film by Sedona producer/director Kathy S. Douglas, is set to make its debut on the silver screen, Feb. 21, at 9 a.m. at the Sedona Performing Arts Center at Red Rock High School.
This documentary, a first film for Sedona filmmaker, Kathy Douglas, explores the basic belief that wisdom is everywhere. Douglas wondered, what would happen if people took the time to look deeply in their own communities, what discoveries and treasures would be uncovered?
It was against the awe-inspiring backdrop of Sedona, Arizona that she decided to film The Song Within. Trusting a natural process lead to the 16 extraordinary women in the film who's stories inspire, teach and entertain. " I realized early on in the project that one could spend years in one community, listening to the stories, documenting the beauty, magnificence and wisdom that is there," Douglas says.
So while The Song Within only captures a sampling of local women, it is hoped that what is shared will inspire others to take the time to meet their neighbors, to notice people more, and let one's curiosity lead them to discover the abundance of wisdom that is all around. May this film be a reminder that within every community, within in every individual there is an abundance of wisdom to be discovered, if we pause and listen deeply, it is revealed.
Learn more about the Festival, see Page 16.