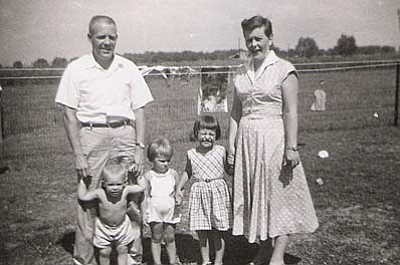 Originally Published: July 19, 2011 1:13 p.m.
1. Our early years were neighborhood-oriented. Our schools, friends, stores, and play areas were generally within walking distance.
2. Few safety features existed. There were no car seat belts or children's car seats. We received few comments on toy restrictions or fear of dangerous playthings.
3. Outdoor activities dominated after-school activities. Most respondents told us that both they and their parents felt comfortable with their children having free access to the neighborhood. Without fence laws, neighborhood pets enjoyed roaming, too.
4. Walking or bike-riding were the two primary means of transportation. Strip shopping centers – generally containing a grocery, barber, ladies hair solon, pharmacy with a breakfast/luncheon counter ("drug store"), hardware store, bike shop, "five-and-dime" store, and neighborhood hamburger restaurant ("malt shop") were prevalent across America. Neighborhoods were self-contained, and provided most primary needs.
5. Respondents complimented school food, which many said was made fresh daily at the school.
6. Frequent school assemblies introduced Boomers to useful skills like home and fire safety, music, art, history, and information about prevailing 1950's and 1960's American culture and values.
7. After-school activities are generally remembered as free, fun, and unstructured, a far different situation from the 21st century's highly organized, timed, controlled children's environments.
8. Conversely, a large number of Boomers told us they took piano, dance, guitar, horn, or other type of lesson on a regular basis. Apparently it benefited them, because many have suggested that their children take lessons, too.
9. The bicycle symbolized freedom and access to Boomers. It's perhaps the most valued and used possession of a Boomer's childhood.
10. The driver's license represented a major milestone. Automakers also benefited from the huge number of Boomers who bought new and used cars in great numbers, and at younger ages than prior generations.
11. The Cold War – and ongoing threat of atomic attack – hung above Boomers' heads. Many spoke of non-specific but very real fears about potential threats.
12. Most respondents spoke positively about their early childhoods.
More like this story