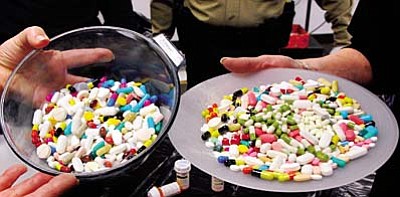 Originally Published: June 11, 2011 1:10 p.m.
In August 2005, The Verde Independent/Camp Verde Bugle launched an in-depth investigation into the proliferation of methamphetamine use in the Verde Valley. We called the series "Methedemic." Our research showed that the escalating use of meth had reached epidemic proportions throughout the Verde Valley.
Four months later, Cottonwood and Camp Verde became the first municipal governments in Arizona to enact laws to track the purchase of pseudoephedrine. The actions of Cottonwood and Camp Verde attracted the attention of former Gov. Janet Napolitano, who urged other Arizona municipalities to follow the lead of the Verde Valley. She also chided the Arizona Legislature for not creating a state law with the teeth that existed in the new municipal ordinances in Cottonwood and Camp Verde.
That grassroots movement evolved into the formation of Yavapai County's MATForce organization. Thanks to the efforts of MATForce, the maniacal meth-induced insanity in the Verde Valley has been dramatically reduced.
That hardly qualifies us as being a community without problems, though. This past week's MATForce meeting confirmed what has been whispered about in the Verde Valley for months now: the abuse of prescription drugs has reached nightmarish proportions in the Valley and is the cause of an alarming number of deaths.
Cottonwood Police Sgt. Tod Moore told the MATForce gathering there have been six deaths in the Verde Valley linked to prescription medications, often mixed with alcohol, during the past six months alone. Oxycontin, hydrocodone, morphine, Tramadol and Vicodin seem to be the new drugs of choice and are being ingested in lethal doses.
With MATForce and our local cities and towns leading the charge, we took an aggressive stand against the scourge of methamphetamine that formerly was a cancer to our community and prevailed.
Obviously, it's time to circle the wagons and do the same with prescription drugs.