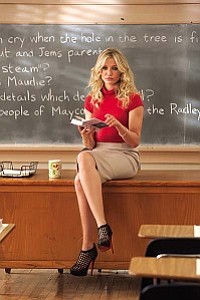 Originally Published: June 28, 2011 8:01 a.m.
Bad Teacher is probably not so bad for those who like, or don't mind, bad comedy, lots of bad language, gratuitous nudity and people who behave badly but who come out on top. There isn't much that's funny in Bad Teacher and there is a lot I found disturbing and offensive.
Cameron Diaz is Elizabeth Halsey, the teacher of the title. She's a teacher who has no interest in the kids in her charge. When Elizabeth is dumped by her rich boyfriend she needs to go back to work until she finds a replacement moneybags who can support her in luxury without working.
Elizabeth drinks, smokes pot, and uses the worst foul language when speaking with anybody, including the middle school boys and girls in the class.
She does no actual teaching. Each day she shows a movie to the class while she sleeps off her drunken stupor at her desk.
Elizabeth is challenged by another young teacher, Amy Squirrel (Lucy Punch), a devoted educator with a bit of a quirky personality. Her biggest problem with Amy is that a new, young teacher, Scott (Justin Timberlake), from a wealthy family, is being drawn away from Elizabeth by Amy.
Meanwhile Elizabeth is pursued by the gym teacher, Russell (Jason Segel), who is not rich. As Elizabeth tries to woo Scott, Amy works to discredit her.
Elizabeth is a scheming, manipulative, uncaring opposite of what we want in a teacher. She is totally disdainful of her responsibilities as a teacher. She decides that she needs breast implants to be more attractive to men and she needs a lot of money for the procedure - which she doesn't have.
She takes bribes from parents to upgrade students' marks and moves in on the carwash concession that the students run, normally under Amy's direction. Of course, she skims some of the money for her surgery. In a particularly ugly and nefarious episode, Elizabeth manages to illicitly garner a large cash prize that puts her close to her goal.
Amy learns of the criminal act Elizabeth has executed and tries to expose her, but Elizabeth outwits her, in another odious turn.
So, where's the comedy in all this? Besides a few, very few, funny lines, Bad Teacher is appropriately rated R. The worst aspect of this film is that the bad guy wins and the good guy loses. Heaven help our kids and our future if there are real teachers out there like Elizabeth.
Bad Teacher is at Harkins Sedona 6 Theater.
More like this story