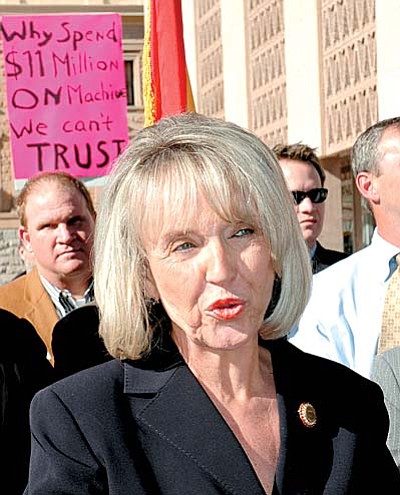 Originally Published: March 24, 2011 8:27 a.m.
PHOENIX -- Gov. Jan Brewer is going on the offensive to try to get legislative Republicans to back off their plans to cut state aid to education.
"We certainly know exactly how I feel about education,' Brewer told reporters Tuesday. "It's the No. 1 priority of mine and certainly a priority of the people of Arizona.'
Brewer told Capitol Media Services, though, that despite her decision last year to champion a temporary hike in state sales taxes, that does not guarantee that, in the end, state aid to education will be protected. All it means, she said, is she will try to guard those funds.
But Joe Thomas, vice president of the Arizona Education Association, said there was at least an implicit promise to voters from Brewer that education would be protected from further cuts.
The governor's comments come on the heels of Senate Republicans voting last week to adopt an $8.1 billion spending plan for the coming year.
To get to that point, though, that budget slices close to $250 million from public schools. And it takes $65 million more from state universities than the $170 million in cuts proposed by the governor.
Senate Majority Leader Andy Biggs, R-Gilbert, said Brewer's plan is a non-starter among members of his party. He said last week's vote reflected their view that Brewer's budget is mathematically dishonest.
He pointed out that Brewer's budget is built on things like a $330 million loan from the First Things First early childhood development program on June 30 of each year. That logs revenues to "balance' the books on the last day of the fiscal year, with the money repaid the following day.
Similarly, the state is deferring another $250 million it owes in state aid to schools into the following fiscal year.
"(This is) really what we technically call gimmicks, accounting gimmicks, borrowing,' Biggs said. "And we think a better approach is to have a structurally balanced budget.'
While Brewer and GOP leaders continue to meet, at the moment they are at an impasse over that issue of borrowing and accounting maneuvers.
Brewer said the Senate-passed plan threatens to undermine the gains being made elsewhere in business development. Lawmakers approved a package of future tax cuts. And Brewer has issued an executive order to freeze new regulations.
"We've changed the way we're doing business in Arizona,' the governor said.
"We have to be very careful in where we cut,' she said. "Education is too important to dismantle.'
Biggs said the concerns may be overblown. He while the cuts to K-12 funding, in pure dollars, appear large, they amount to just a small percentage of total state funding.
Anyway, Biggs said, if the governor wants to preserve public education funding, she should provide some alternative.
"We've got a bucket, a silo of reductions,' he said.
"If you don't like the reductions here, move them around,' Biggs continued. "But we need to get to a balanced budget without gimmicks.'
Brewer, however, said as far as she is concerned, the next move is up to legislators.
"I think they need to convince me where those cuts should come from,' she said. "Right now I'm very, very concerned and want to protect education.'
Biggs said senators do want to work with the governor.
"We're not freezing her out,' he said.
That still leaves the question of the tax hike.
Brewer was the prime promoter of the measure to increase the state sales tax by a penny, to 6.6 percent, for a three-year period. And a key selling point was the idea of shielding education from the recession, which sharply slashed state tax collections.
Brewer said Tuesday, though, that was not a promise there would be no further cuts to K-12 funding.
"I said I would try to protect education and that it was not a cure-all moving forward,' she said.
"And, so far, I will try to hold my hand in front of the spigot and protect education,' Brewer said. "That's what I've said all along.'
And Biggs said he does not see the vote, despite the 2-1 margin for approval, as any sort of commitment to keep education funding intact.
House Minority Leader Chad Campbell, D-Phoenix, has his own plan to deal with the problem: Higher taxes, at least for some.
Campbell said if every transation were subject to the state sales tax it could raise $10 billion a year. He said at least some of what he calls "loopholes' could be closed to bring in additional cash.
Campbell also has complained about legislators approving tax hikes for business on the heels of the higher taxes on consumers. But lawmakers, at Brewer's insistence, made sure most of those cuts do not take effect until after the sales tax expires at the end of May 2013.