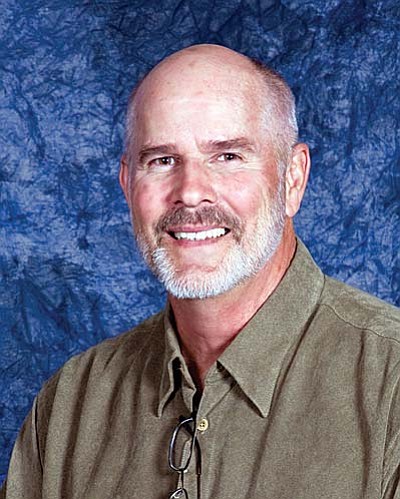 Originally Published: March 30, 2011 8:40 a.m.
Clarkdale Mayor Doug Von Gausig serves as Vice President of the League of Arizona Cities and Towns. In that position, Von Gausig puts in a lot of time representing not only Clarkdale, but also other communities throughout the Verde Valley.
He represented the League March 12-16 in Washington, D.C. at the National League of Cities Conference.
"During the conference, I hosted a question and answer for the Arizona League members with Senators McCain and Kyl in the Senate Office Building," Von Gausig said. He said he also was privileged to hear Michelle Obama speak during the conference.
Last week, Von Gausig, along with some other members of the League met with Gov. Jan Brewer in her office to discuss the differences in her proposed budget and the budget being proposed by the Arizona Legislature.
Von Gausig also stays in close contact with other elected representatives.
"As the VP of the League of Arizona Cities and Towns, I am talking to Sen. Pierce and Representatives Tobin and Fann every other day or so to discuss various bills and their impact on Arizona's cities and towns," Von Gausig said.
"I also helped negotiate some changes to a few very threatening bills with the Arizona Legislature and the Arizona Tax Research Association," he said.
During those negotiations, Von Gausig was able to get two bills dropped completely. He said that was much to the benefit of municipalities.
-- Philip Wright
Clarkdale first to accept AZ Solar Challenge
During its meeting March 22, the Clarkdale Town Council became the first community in the Verde Valley to commit to the Arizona Solar Challenge. The goal of that challenge will be for Clarkdale residents to have 5 percent of owner-occupied homes install solar electric or solar hot water systems by 2015.
The challenge is the project of Arizona Smart Power, a non-profit funded by foundations and hired by APS. Arizona Smart Power state director Toni Bouchard presented the program to the council. Participation in the challenge allows Clarkdale availability of a free solar coach.
The exact number of owner-occupied homes in Clarkdale will be released within a few months, as more 2010 Census details become available. But, currently, the estimated number of solar installations needed to meet the challenge is between 100 and 125. APS will track the installations through the number of solar incentive checks the utility company issues to homeowners in the 86324 zip code.
APS has already issued 49 incentive checks in the Clarkdale zip code.
For information, contact Jodie Filardo at (928) 639-2542 or Jodie.Filardo@Clarkdale.AZ.gov.
-- Philip Wright
Verde Valley nominees for teacher of year
Nominees from the Verde Valley for Yavapai County Teacher of the Year have been named. The winners will be announced at the banquet on April 29 at the Prescott Resort.
Kathleen Fleenor, superintendent of Clarkdale-Jerome School District, said she doesn't know how many of the nominees are finalists. "I do know that Andrea Clark, one of our second-grade teachers, is a finalist in her category," Fleenor said.
Clark was nominated from Clarkdale-Jerome in the Small-School category.
Also nominated from Clarkdale-Jerome was Jennifer Shilling, kindergarten teacher, as a First Year Teacher.
Cottonwood-Oak Creek School District has three nominees. Kathleen Jensen from Cottonwood Middle School was nominated in the math category. Also from CMS, special education teacher Danny Watkins was nominated in the Cross-Grades category.
Michelle Zale, K-2 language arts teacher at Dr. Daniel Bright School was nominated for the Cross-Grades category.
Camp Verde Unified School District has four nominees for Teacher of the Year. Amy Settle of Camp Verde Elementary was nominated for the Pre-K through third-grade category.
Camp Verde High School had three nominees. Lara Lawrence, English; Russ Schafer, Math; and Daniel Wall, algebra.
Marc Kresge of Mingus Union High School was nominated as Spanish teacher in the high school category. Tyler Novak from Mingus was nominated as the visual arts teacher of the year.
Micca Martinez, physical education teacher at Beaver Creek School, was nominated in the small school category. Denise Meyer from CVUSD's South Verde High School was nominated in the writing category.
J. Scott Fray was nominated as the 7/8-grade science teacher from West Sedona Elementary.
-- Philip Wright
C-OC has two parents' meetings March 30-31
Cottonwood-Oak Creek School District has scheduled two parent meetings this week. The first is Wednesday at 6 p.m. at Tavasci Elementary School at 2939 Del Rio Drive. The subject of the TES meeting will be regarding closure of the school.
The second meeting will be Thursday at 6 p.m. at Oak Creek School, 11490 E. Purple Sage Drive in Cornville. The topic for that meeting will be restructuring of the school.
The district has given notice that a quorum of the governing board may be present at either or both of the parent meetings. No action will be taken at either meeting.
Board members voted during a special meeting March 22 to close Tavasci Elementary School and to keep Oak Creek School open as a K - 8 campus.
-- Philip Wright
Dump the Drugs Day in Jerome April 9
Those unused or outdated prescriptions or over-the-counter drugs are dangerous unless disposed of properly. Flushed down the toilet or disposal the drugs end up in our lakes, rivers and groundwater. Left in the medicine cabinet, the drugs may end up in the hands of children.
According to the Arizona Youth Survey in 2010, one in every four 12th graders in Yavapai County has abused prescription pain medication.
So clean out those medicine cabinets and bring those expired or unused drugs to the Jerome Fire Station between 9 a.m. and noon on Saturday, April 9. A sharps container will be available for disposal of needles and syringes.
Dump the Drugs Day is sponsored by the Town of Jerome, MATForce, the Jerome Fire Department and the Jerome Police Department.
"This is a chance to safely dispose of any unused or expired prescriptions and over-the-counter drugs," said Rosemarie Shemaitis, Jerome deputy clerk.
Shemaitis said disposal will be available for tablets, ointments, liquids and powders. The police department has made arrangements to have all drugs collected properly incinerated.
The Jerome Fire Department is located at 101 Main St. For information, call (928) 649-3034.
-- Philip Wright
More like this story