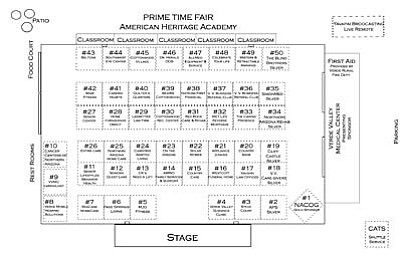 Originally Published: May 2, 2011 1:25 p.m.
There will be a full slate of vendors offering information and exhibits during the Verde Valley Prime Time Fair on May 7. Here is a sampling.
Quilter's Quarters and Bernina Too will display sewn and quilted items, hand out the quarterly newsletter, introduce the sewing machine repair division with a coupon, give directions to the store and enjoy meeting attendees at the Prime Time Fair.
Red Rock Care and Rehab is an 80-bed Skilled Nursing Facility providing long term care to individuals requiring care and services ranging from short-term rehabilitation to more long term needs. Red Rock Care and Rehab is operated by 24-7 Long Term Care, Inc.
On The Greens is a 55+ community that offers great senior living at its best. We are a gated golf course community with homes ranging 1367 - 2300 sq ft. plus garage. Million dollar clubhouse, indoor pool, spa, gym. Excellent year-round climate.
Cottonwood Village offers special senior apartments with 24-hour staffing for peace of mind, table-side dining service, housekeeping and linen services, transportation and bountiful recreational opportunities. For our residents with special needs, we offer Assisted Living services on site.
Sonora Quest Laboratories is an integrated laboratory system servicing over 7,000 clients throughout Arizona including hospitals, physicians, managed care organizations and employers. We have approximately 2,000 employees statewide and perform over 70,000 diagnostic tests per day. Our comprehensive on-site test menu includes routine testing to more esoteric cytogenetic studies.
Solarworks - Installing Solar Electric and Solar Hot Water Systems Since 1983 in Cottonwood and Sedona Arizona. Solar is more affordable than ever before, ask us about APS Rebate Checks, Federal Tax Credits and State Tax Credits
Met Life Reverse Mortgage - If you're a homeowner age 62 or older, you may be able to use the equity you've built up in your home to help supplement your income without depleting your savings - all while you continue to live in your home. Get the answers to the questions people most often ask, so you can better understand this financial tool and decide whether it might be right for you.
Caring Hearts - Home care services for seniors from 2 to 24 hours a day. Homemakers, certified caregivers, CNA's assist with activities of daily living and much more. Locally owned and family operated since 2003.
Southwestern Eye Center is dedicated to providing the best possible care for patients seeking or in need of LASIK, cataract surgery, retinal surgery, cosmetic surgery or glaucoma evaluations and treatment. Southwestern Eye Center is able to provide patients in Arizona with improved vision by using some of the most advanced and sophisticated techniques and technologies available today.