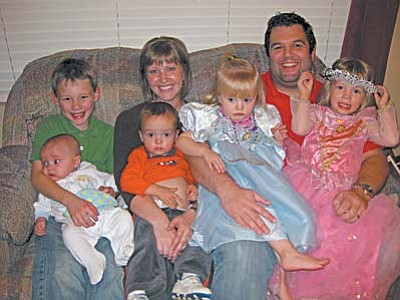 Originally Published: May 5, 2011 8:44 a.m.
Most people who are thinking of adoption or becoming a foster parent imagine a young child from birth to 5 years old.
That is rarely the reality of children looking for homes.
Jennifer Devore of Catholic Charities says most are teens or siblings.
"I get requests once or twice a week from families that want to adopt children 0-to 5 years. They often already have a single child and want to adopt another or they are unable to have a child or a second child; 70-80 percent of the calls are for children in that age range. But, there are actually very few adoptable children are in that range," said Devore.
"Young children are usually part of a larger group of siblings and teens. She suggests that families try to expand their vision and look outside the box.
Some 800 Arizona teens live in group homes and don't share their holidays with a family, Devore explained.
Or, did you ever think of adopting or fostering a sibling group of as many as five children or a teen?
Foster Fairs scheduled
Catholic Charities is holding Foster Fairs in Cottonwood and Camp Verde to share information about fostering children and to allow people to meet foster families and ask questions. A Cottonwood Foster Fair is scheduled Saturday at ACME Pizza May 7, 4:30- 6:30 p.m.
A second Foster Fair will be held in Camp Verde at Valley View Restaurant, May 31, from 3-5 p.m.
Angela and Michael Clonts had been planning a family for years, but nothing had worked out. "We also had been trying to adopt and had met with several birth mothers. We came really close with a little boy but the birth mother decided to become a parent after all.
"After six years of trying, we decided to look at foster care and maybe adopting through the state."
Angela, 27, comes from a family of seven. Michael was one of two children.
"I was a little hesitant, because I didn't know how I would handle getting a foster child and then losing that child after a time," she said.
What's good for the kids?
After looking at their options, Angela and Michael made a critical decision. "Instead of thinking about us, and what we could handle and what our needs are, we turned our attention to the children, and about what would be good for them. We thought, even if we had the children for a time and then lost them, it would be good for the kids while we had them in a loving home and safe environment."
They then decided to become foster parents.
Jennifer explains that the legal process to adopt or to become a foster parent is about the same. There is a legal process, paperwork and training.
The minimum standard includes being 21 years old and able to meet your expenses. You will need a fingerprint card. There is a lot of paperwork and a 30-hour training course. There is also a home study training process.
"It's not about finding beds, but finding good fit for the family," Devore points out.
Angela says that after starting fostering classes she and Mike would have accepted a strict fostering situation, but preferred a permanent placement.
Offered a small family
They were presented with a sibling group of four. The children already had been severed from their birth parents and were looking for an adopting family. They knew they wouldn't be going home.
"We were already out of the 0-5 range. When we were presented with this group, Kaden was already 7 and would be 8. We thought about it and asked, 'do we want to go as old as that?' Especially when you don't have any kids. We decided we would."
Justice was 3, McKenzie was 2 and Nathan was 15 months.
"We got them in July and it was two weeks later that Patrick was born, another sibling."
"To go from having no children to having four, and in another month, having five, is a drastic change, but definitely doable."
People tell Angela, 'I don't know how you do it.'
"I think so many people could if they open themselves up to the idea. People underestimate themselves. The surprise is that there were so few groups of one or two. The smallest we saw were groups of three, four or five."
There were clearly some changes in their lives. Michael works in a bank, Angela worked as a dental assistant and part-time EMT.
They had to move into a three-bedroom house, hoping to get kids to foster or adopt. They also bought a mini-van before they found the children.
Angela quit her job, the day before the kids moved in.
"I am living my dream," she says. "All my life my dream was to grow up, get married and have kids."
Devore said, "We recommended Mike and Angela, because we knew they had the skills."
She says, "It is difficult for kids in foster care. In my job, I hate splitting up families."
To ensure enough seating for Saturday's Forster Fair, RSVP to Jennifer Devore at 928-634-4254, ext. 54132 or jdevore@cc-az.org.
• What: Foster Fair
• When: Cottonwood May 7, 4:30-6:30 p.m.
• Where: ACME Pizza, 280 S. Main St
Or
• When: Camp Verde, Sat May 21, 3-5 p.m.
• Where: Valley View Restaurant, 102 Arnold St.