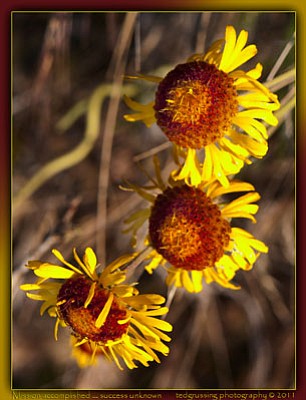 Originally Published: May 19, 2011 1:50 a.m.
Flowers have bloomed and more will bloom, eggs in the nest and life in suspense ... will the flowers renew, will eggs hatch? The pageantry of life goes forward and the certainty of uncertainty is ever present. I took this shot yesterday of some flowers past their prime and the question is real and not rhetorical to it and so many other life forms ... were they pollinated or fertilized and will this particular plant help perpetuate the species? Don't know and the wait is on.
A cool, windy rainy day today and a few plans changed as a result. I do like the wild nature of days like this; can't help thinking about days in a duck blind with mugs of hot coffee and rum soaked crook cigars while we waited for the ducks to come in.
Lots of image work today and a little time just looking out the window and watching the trees blowing wildly in the wind.
Enjoy today and those whom you come in contact with.
Cheers
Ted
More like this story