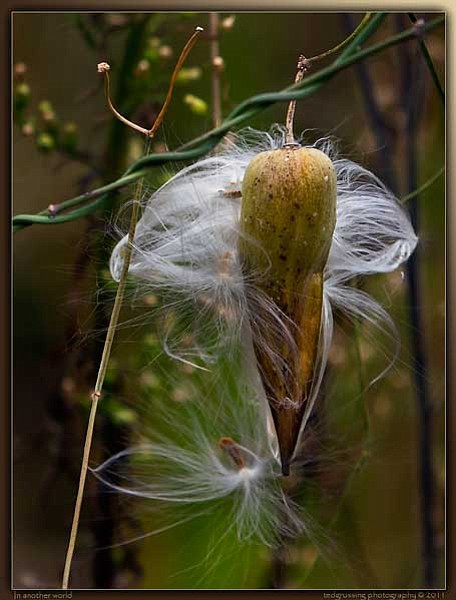 Originally Published: November 7, 2011 2:12 a.m.
... if in other worlds there is beauty equal to what we can fill our days with here on planet earth ... I suspect it is so as when darkness has fallen and the skies are dark and clear there is beauty on a scale that is beyond comprehension. A friend of ours does a lot of astrophotography and I marvel at the colors, patterns and fanciful nature of his work. Mine is limited to the daytime and what I see around me. After church this morning Corky and I made a couple of stops for errands and then on down to the ponds to see what was there. I got some beautiful shots of ducks, herons and an eagle climbing high in the sky, but it was this shot of a milkweed pod opening that caught my eye. Life ending but providing for a continuation next year, intricate patterns in the weave of branches and stalks and the fineness of the delicate strands attached to the seeds that will carry them to a place where they will embed in the soil and grow, or not. A small little scene, but so much beauty and life; now it is yours.
A great day is underway and it will be a very good day for us and we hope for you too. Take a few moments to look at the ordinary and find something special.
Cheers
Ted
So each one to his wish, and as for me,
I sit tonight and wait
To find the answers to my soul in me,
And in the beauty of the sky and sea.
Max Ehrmann
More like this story