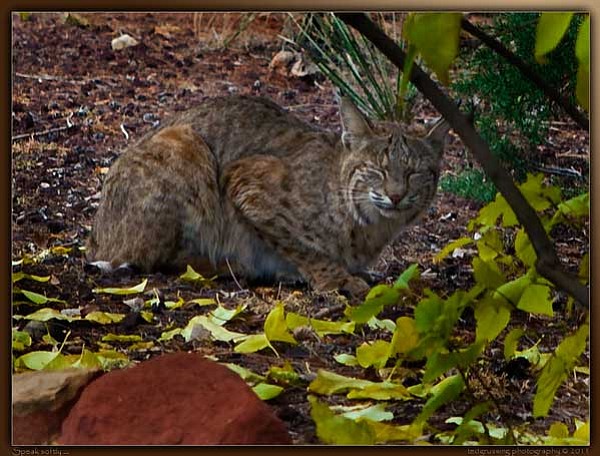 Originally Published: November 25, 2011 12:58 a.m.
... speak softly and murmur gentle words that bring peace to even those who are predators. On my walk today the resident bobcat family crossed the street in front of me and one of the young had a rabbit in its mouth. The young headed into a backyard haven and mom carried up the rear. I talked with "Mom" and she relaxed and let me get within twenty feet of her and I decided that was close enough so that she did not feel threatened. I continued to talk with her and she enjoyed a restful interlude. The "kids" were somewhere nearby out of sight in the backyard consuming their lunch. I didn't have long glass with me so I had to get fairly close to get a decent shot. This was taken with a Canon 5D Mk II and the Canon EF 24-70mm f2.8L US lens at 70mm and 1/125th of a second exposure, f5.6, ISO 200, spot auto focus with manual adjustment and center weighted metering in aperture preferred shooting mode. I would have preferred the 7D with the 70-200mmm but what the heck, I'm thankful I got the shot and that was the theme for the day.
We're going to be celebrating out Thanksgiving a day late with a friend and lots planned for the day including me roasting a nice Butterball Turkey that I bought last year. Should still be good and if not there are a lot of restaurants open tomorrow and bet turkey will be at a discount. Really meant to cook it for Christmas last year, but it didn't work out. Hopefully after reading this our guest will not cancel out :-)
Have a wonderful day, do some shopping or just relax and enjoy the day.
Be well, be a blessing
Ted
But from the brooding beauty of the night, and daily dancing shafts of golden sun ...
The mystery and wonder of the world ... that play the soundless music of the soul
And fill the heart with memory's olden dreams ... From these will come at last your faith in God.
Max Ehrmann
More like this story