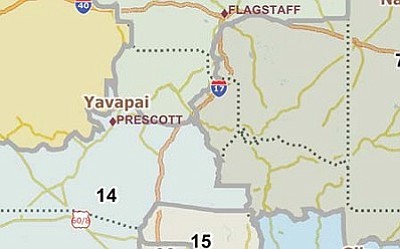 Originally Published: September 6, 2011 5:45 p.m.
CAMP VERDE - Still feeling shafted after having their wishes ignored when it came to drawing county supervisor districts, the Camp Verde Town Council does not want a repeat performance from the State of Arizona.
That, however, looms as a possibility.
As far as the county supervisor districts were concerned, the issue was separating Camp Verde from much of the Verde Valley. With the state's legislative redistricting, the problem is that Camp Verde could be separated from itself -- three times over.
The Arizona Independent Redistricting Commission has chosen a map, known as "Option 2," which will be used as the starting point for future discussions on carving the state's 30 legislative districts.
As the map is currently drawn, the municipal boundaries of Camp Verde would be divided among three separated districts -- 6, 7 and 14.
Although the splitting of municipal boundaries is common in large metropolitan areas, it is not a common practice in small rural communities. Splitting a municipality with a population of just 10,000 into three districts is unheard of.
"It's a horrible idea," Camp Verde Councilwoman Carol German said. "It really makes you realize the general feeling out there about Camp Verde. I believe our first choice is to have Yavapai County in one district.
"But if we can't have that then Camp Verde should be put entirely in one district or another, even if it means being paired up with Payson and communities to the east of us who have requested we be part of their district," she said.
German is not alone, which is the reason the council will consider a letter to the IRC specifically asking them not to split the town.
Ana Garcia with the IRC said the map is "very preliminary" and should not be of concern at this point.
"Nothing is carved in stone. Option 2 was chosen as a starting point by the flip of a coin. What we see as a final product will be very different from what they start with," Garcia said.
Regardless of the assurances from the IRC, German says she remains concerned.
"The process is going to move pretty quickly from here," she said. "That's why we need to get organized and get on it. It's going to go fast because there is a deadline."
-- Contact the reporter at sayers@verdenews.com
More like this story