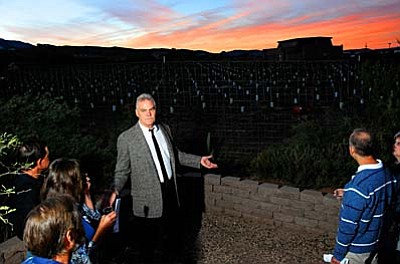 Originally Published: September 14, 2011 9:18 a.m.
COTTONWOOD -- Verde Valley Dean of Yavapai College Tom Schumacher and the Cottonwood City Council Tuesday discussed a letter of commitment to support the growing wine curriculum at the Clarkdale campus, which the college hopes to grow into the Southwest Wine Center.
While Cottonwood has boosted the fledgling Verde Valley wine industry and Cottonwood's Old Town has become home to numerous tasting rooms, the letter of support anticipates a contribution to the college's grape-born industry through use of reclaimed water from Cottonwoods wastewater plant nearby.
Schumacher explained the college program has been popular and had grown quickly from its initial sampling and understanding courses to an agriculturally based growing and wine-production curriculum. He says it is not only unique among area schools, but also benefits all of Yavapai County.
When the college moved toward viticulture, the dean of the Verde Valley campus said partners from the industry willingly came forward and offered vines and labor, establishing the first acre of grapes. From the summer of 2009, the coursework has expanded to a practicum course this summer.
With the help of the Yavapai College Foundation and grants, the college intends to build a Wine Education Facility on part of its unused acreage.
In order to support the grant application, the dean says a commitment is needed from surrounding communities including Cottonwood.
A draft letter proposed by Cottonwood Manager Doug Bartosh suggests Cottonwood could support the program by providing reclaimed water from its treatment facility to help irrigate vines over a future 20 to 30 acres.
The letter suggests that reclaimed water could save the college $40,000 in the cost of water. The system now uses potable water.
There was confusion about the intent since few city officials were part of the letter's drafting and Bartosh was on vacation.
It is believed that the tanks that Cottonwood would provide for the reclaimed system are the same as already installed to supports the Cottonwood Ranch and Mesquite Hills landscaping.