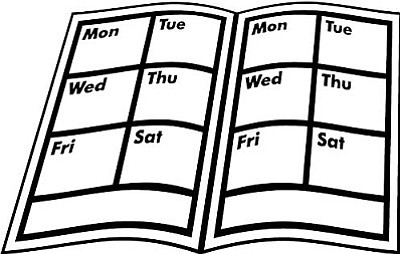 Originally Published: September 29, 2011 1:01 p.m.
Pumpkin Patch fund-raiser at St. Joseph's
Oct. 9-30
St. Joseph's Catholic School will hold their annual Fall Harvest Festival and Pumpkin Patch during October. The Pumpkin Patch will be open from 3 to 9 p.m. on weekdays and 11 a.m.–5 p.m. on weekends. So come peruse the pumpkin patch to pick your perfect fall gourd and help raise money for St. Joseph's Catholic School.
On October 22 and 23 the pumpkin patch will become a Fall Harvest Festival from 10 a.m. to 4 p.m. There will be games, activities, face painting, pumpkin decorating, a jolly-jumper, food, drinks and more. Celebrate fall, find the perfect pumpkin and spend some time at the St. Joseph's Catholic School Fall Harvest Festival. See you 'round the pumpkin patch.
Pine Shadows Fine Art & Craft Show
Oct. 22
The eight annual Pine Shadows Residents Association presents their Fine Art & Craft Show at the Pine Shadows Clubhouse, 2050 W. 89A, Cottonwood, from 10 a.m. to 3 p.m.
Familiar vendors are back along with new ones. Items are hand-made and will include jewelry, stained glass, fiber art, wood carving, etched glassware, gourds, pottery, paintings and more.
For additional information call Pat Gibble at 649-9076 or Pat Lyons at 649-3084.
Join Verde Valley Voices
It's not too late to join the Verde Valley Voices as they practice for their Holiday Concert to be presented Dec. 17. They are thrilled to already have new members who are having fun learning the music for the concert. This promises to be a very exciting concert. The Verde Valley Voices is a non-audition choir of all ages from throughout the Verde Valley and beyond. Practices are held every Tues evening from 6:30 to 8:30 p.m. at the Presbyterian Church located at 1500 E. Hombre Drive in Cottonwood. There are dues per semester (there are two semesters per year, one Sept-Dec and one Jan-May) that assist with the cost of music. A single membership is $40, $35 each for members of the same household, and a student membership for $20.
If you love to sing, hum and carry a tune (you do not have to be able to read music), please consider joining the choir for fun filled evenings of music and new friendships.
For additional information please call: (928) 649-3172 or (928) 639-2611.
Ribbon-cutting at new Beaver Creek School building
Oct. 7
A ribbon cutting ceremony and centennial monument unveiling at Beaver Creek School is at 9 a.m. in the new cafetorium. Refreshments and tours of the two new buildings will follow.
The multipurpose facility includes a kitchen, stage, classrooms, and restrooms. The second building includes the administration facilities and a shared library between Yavapai County and the school district. Community members and friends of all ages are invited to come share in this celebration of the hard work and tenacity of Beaver Creekers in accomplishing this long-sought goal.
Cave of Forgotten Dreams in Camp Verde
Oct. .2
The Verde Valley Archaeology Center presents the "Cave of Forgotten Dreams" film on the 35,000 year old cave rock art of Southern France. The screening is Oct. 2 at 6 p.m. in the Camp Verde Multi-Use Complex Theater, Camp Verde.
Tickets are $10; $5 Members; Under 13 free.
Info at www.verdevalleyarchaeology.org or (928) 284-4764.
Kiwanis Pancake Breakfast for Fort Verde Days
Oct. 8
The Camp Verde Kiwanis Club will be hosting its annual Fort Verde Days Pancake Breakfast from 7 to 10 a.m. The location is the same, the Community Kitchen next to the Gazebo on Main St. They will be serving pancakes, sausage, orange juice and/or milk for $5 for adults and $3 for children under 12. This breakfast is one of the fund raising events they hold to help Kiwanis continue to support the many worthwhile activities held in the community. As with all of Kiwanis fund raisers, 15 percent of the proceeds go directly to the scholarship fund.
Beaver Creek to celebrate Walk to School Day
Oct. 5
Beaver Creek School in Rimrock will be joining schools from around the world to celebrate International Walk to School Day.   
Students of all ages from Beaver Creek School will be walking to school on Wednesday morning along with parents, teachers and community leaders. 
The event will begin at 7:15 a.m. with students, parents and community leaders walking from Kramer Road along Beaver Creek Road to the school.  The last group will leave at 8:05 a.m. Following the walk, the students will participate in a bike safety rodeo at Beaver Creek School as a way to become educated about the safety aspects of riding a bicycle on streets and roads.
In the U.S., International Walk to School Day is expected to be celebrated at over 3,500 events at participating schools. Walkers from the U.S. will join children and adults in 40 countries around the world.
Walk to School events work to create safer routes for walking and bicycling and emphasize the importance of issues such as increasing physical activity among children, pedestrian safety, traffic congestion, concern for the environment and building connections between families, schools and the broader community. 
For additional information on this event or on how you can participate, please contact Kristyn Conner at (928) 567-4631 or kconner@ycvp.org.
More like this story