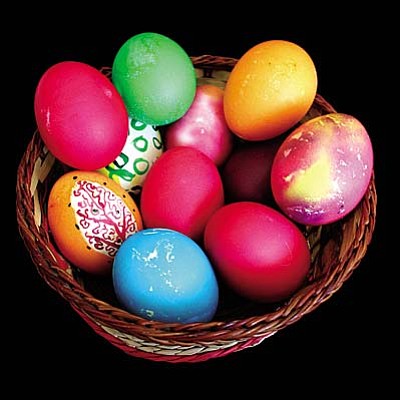 Originally Published: April 5, 2012 1:09 p.m.
Wesleyan Church to host community egg hunt
On Easter Sunday, April 8, Sedona residents will have the opportunity to celebrate together as a community. Christ Center Wesleyan Church invites everyone to the Performing Arts Center at Sedona Red Rock High School at 10 a.m. for a worship service along with an Easter egg hunt for kids.
The service will include uplifting music, a personal story of a changed life, and teaching that is designed to be relevant. Christ Center Pastor, Frank Robinson, says that the theme of the service will be based on the idea that "death loses; life wins." He will explain the message of hope from the story of the Resurrection.
During the service, children can participate in an egg hunt that will cover the soccer field of the high school. Christ Center Children's Director, Laura Pratt, says that her team is hiding more than 850 eggs, all filled with candy and prizes. The participants will also have the chance to win larger prizes. Afterward, the kids will gather in the lobby of the Performing Arts Center to hear the Easter story.
Following the service, there will be time for the community to mingle, with snacks and coffee provided. For additional information about the Easter celebration, please call the Christ Center office at (928) 282-9767, or call Assistant Pastor Laura Aronson at (928) 300-1477. To learn more about the church, visit www.sedonachristcenter.org.
Regular services are held every Sunday at 9 a.m. and 10:45 a.m., on 580 Brewer Road. Children's Sunday School meets during the second service, and an adult Sunday School class is held at 9:30 a.m. Spanish-language services are at 5 p.m. on Sundays. Youth Group, for middle school and high school students, meets at 6:30 p.m. on Tuesday evenings.
Christ Center Church welcomes people from all backgrounds to come and experience hope.
Holy Week at Immaculate Conception
The Immaculate Conception Catholic Parish, 700 N. Bill Gray Road, Cottonwood, begins Good Friday services April 6 with Confessions at noon, Stations of the Cross at 1 p.m., and Divine Mercy Novena at 2 p.m.
The commemoration of the Lord's Passion and Adoration of the Cross is at 3 p.m., with the Spanish service at 6 p.m
On Holy Saturday, April 7, the blessing of Easter food is at 11 a.m., and the bilingual Easter Vigil Mass is at 8 p.m.
On Easter Sunday, April 8, Mass of the Resurrection is at 9 a.m., followed by a bilingual service at 11 a.m.
Parkside hosts Easter Services and Egg Hunt
Parkside Community Church, 401 Camp Lincoln Road, Camp Verde, will have two services April 8 at 9 a.m., and 10:45 a.m. with classes for children ages Infant through fifth grade. Egg Hunt for ALL KIDS following each of our Sunday Services. Hunt will start 10 minutes after each service across the street at Butler Park.
Parkside Church was founded in 1962 and is currently led by Pastor, Mick Martin. With more than 400 in weekly attendance, Parkside Church is one of the largest churches in Camp Verde and the Verde Valley. With a unique vision, Parkside ministers through the arts, media and culturally relevant teaching.
For more information, visit parksidecampverde.com, call (928) 567-3577 or e-mail Robin at robin@parksidecampverde.com
Holy Week at St. Frances Cabrini
Fr. Zachary of the Mother of God, SOLT, will again be conducting a mission during Holy Week at St. Frances Cabrini Catholic Church, 781 S. Cliffs Parkway in Camp Verde. His message will be about the Passion and Charity of Jesus Christ.
Good Friday, April 6, 1 p.m., Stations of the Cross; 2 p.m., Seven Last Words; 6 p.m., The Lord's Passion
Holy Saturday, April 7, 8 p.m., Easter Vigil
Easter, April 8, 8 a.m., Mass; 9:30 a.m., Mass; Noon Spanish Mass
For more information, call (928) 567-3543. Everyone is welcome.
Easter at Spirit of Joy
Spirit of Joy Lutheran Church will celebrate the Resurrection of Jesus Christ on Easter Sunday, April 8, with three worship services: SonRise Worship will be held outdoors and begins at 6 am. Traditional Worship featuring favorite hymns and our Joyful Noise Choir begins at 8:30 am, and Praise Worship featuring Top 100 Praise Songs sung karaoke-style begins at 10:45 a.m. All worship services include Holy Communion, and all are welcome to fully participate. An Easter Breakfast will take place at 9:30 a.m.
See www.sojaz.co or call 634-4102 for further information.
More like this story