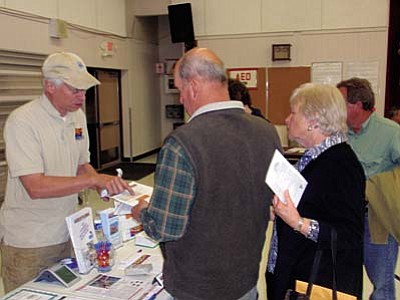 Originally Published: April 21, 2012 1:01 p.m.
Fill your baskets with CSA
May 23-Oct. 17
Spaces are now available for the Verde Valley Community Supported Agriculture (CSA) season. Shareholders meet every Wednesday from 4 to 6 p.m. at Windmill Park in Cornville to pick up their basket of locally grown, freshly picked produce from area family farms. This is a volunteer-run, nonprofit organization. Shareholders may pay for the season up front for $474 or make two payments of $242 preseason and midseason.
For more information, call Sandy Boyce at (928) 203-1100 or visit www.localharvest.org/verde-valley-csa-M19008
New Farmers Market in Lake Montezuma
Growers are wanted for a new Farmers Market beginning in May at the historic Ranch House Restaurant in Beaver Creek. No charge for grower vendors.
Contact Bob Burke at bburke@swiftaz.net or at (928) 301-0394.
Join in the Wine Barrel Painting
April 27
White Hills Gallery invites you to join in a community art project of painting wine barrels with local artists from 5 p.m. to sundown during Free Fourth Friday in downtown Camp Verde. The gallery is at 348 S. Main St.
Wine barrels are provided by The Horn Saloon, and paint is provided by Camp Verde's Ace Hardware. For more information, call (928) 274-7903 or email info@whitehillsgallery.com.
Support group for caregivers of Alzheimer's patients meets
May 2
Alzheimer's disease is increasingly prevalent as people live longer, and their caregivers are often in need of support and helpful resources. The first Wednesday of each month Verde Valley Presbyterian Church hosts a support group for caregivers of Alzheimer's patients from 10 to 11 a.m. The next meeting will be at Verde Valley Presbyterian Church, 1500 E. Hombre Drive, in Cottonwood. This support group is open to all. For information, call Barbara at (928) 634-2638 or Fran at (928) 634-6495.
Quail Country Quilters meet
April 26
The Quail Country Quilters' next meeting will be "Sewing for Charities" in the Verde Valley.  Kits will be provided, so either bring in your sewing machine, or help with pressing, or wherever needed.  They meet on the second and fourth Thursdays at 9 a.m. at the VFW Post, 705 E. Aspen in Cottonwood. Visitors are encouraged and always welcome! Any questions, call Bev at 634-9411.
Dip into Great Sedona Chili Cook-Off
May 5
The Great Sedona Chili Cook-Off will heat up the scene at Tlaquepaque Arts & Crafts Village in Sedona on May 5, 11 a.m.-3 p.m.  Chefs from twelve area restaurants will offer unique chili recipes at the Rotary Club of Sedona sponsored event.  Proceeds will benefit Rotary's End Polio Now and Imagination Library projects.
Shriners sell Vidalias
April 23
Sweet Vidalia onions are here again at Food city Shopping Center in Cottonwood and Bashas' Shopping Center in Camp Verde. For information, contact Noble Richard Fields at (928) 634-0453 or President Noble Jack Hoover at 567-9586.
The importance of cottonwoods in our ecosystem
April 25
The majestic, leafy cottonwoods, for which the city of Cottonwood is named, have helped unlock some of the mysteries of nature. A new one-hour documentary - A Thousand Invisible Cords: From Genes to Ecosystems - tells the story of 30 years of research and its implications for safeguarding the environment. The premier screening of the film will take place on Wednesday at 7 p.m. at Northern Arizona University (NAU) in the Cline Library Assembly Hall, in Flagstaff. There is no admission fee. Immediately after the showing, there will be a panel about key issues raised in the film.
For more information, visit www.athousandinvisiblecords.org or Facebook: http://www.facebook.com/AThousandInvisibleCords
More like this story