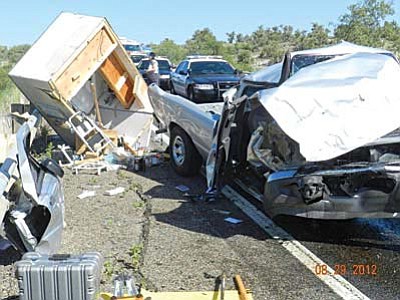 Originally Published: August 30, 2012 1:47 p.m.
COTTONWOOD - Additional details have been released about the two-car vehicle accident on SR 260 near milepost 211.
Investigation into a serious injury collision involving a white recreational vehicle and a silver Ford Ranger pickup truck blocked the highway in both directions for three hours. The two vehicles collided head-on about 8:45, while the RV was heading towards Camp Verde and the pick-up driving toward Cottonwood. Witnesses say the driver of the pick-up had been seen swerving left of center along the two lane stretch lane of road for about 200 feet before ultimately veering into the oncoming RV.
The RV attempted to avoid accident by slowing and driving further left, the collision still occurred as the truck and RV struck inside of the RV's travel lane. All occupants from both vehicles were transported for treatment and medical evaluation.
The pickup driver, a 68-year-old man from Camp Verde, was investigated for DUI, but he did not appear to be under any influence of alcohol or drugs. His passenger, a 48-year-old woman, also from Camp Verde, was taken by medical helicopter to the Flagstaff Medical Center in critical condition. Just before 3 p.m., she was reported to be coherent and able to speak. The driver of the RV, a 65-year-old male, also did not appear to be under the influence of alcohol or drugs. The roadway was re-opened shortly after noon.