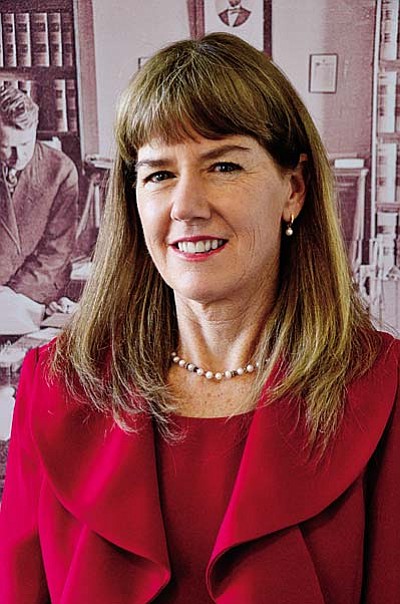 Originally Published: December 15, 2012 1:05 p.m.
Nothing in the world can take the place of persistence. Talent will not; nothing is more common than unsuccessful men with talent. Genius will not; unrewarded genius is almost a proverb. Education will not; the world is full of educated derelicts. Persistence and determination alone are omnipotent. The slogan "Press On" has solved and always will solve the problems of the human race.
-- Calvin Coolidge
America's 30th president no doubt would have found a comrade in Yavapai County Attorney Sheila Polk.
If there is one single word that would define Polk's efforts in the seeming never-ending battle on drugs, it is persistence.
For more than a decade through the community plagues otherwise known as methamphetamine, prescription drug abuse and now the new world of synthetic drugs, Polk was been unwavering in her effort to keep our communities, our schools, our lives free from these epidemics.
It has to be a frustrating battle. You never really completely rid your community of one of these infestations. Meth, for example, after all these years is still around. And once you get over the hump, once you just start to get a handle on a problem such as methamphetamine was in the Verde Valley a dozen years ago, a new wave of drug abuse comes along.
In Polk's case, she helped create MATForce, which combines the elements of education, awareness and innovation to effectively deal with each new wave of drug infestation that makes its way into our community. During the past year, she took on the local distributors of the newest drug of choice – bath salts and spice – and through some innovative legal maneuvering, gave these distributors the choice of either discontinuing the sale of such, or face prosecution.
Now, she is going after the online distributors of these same drugs. The Cease and Desist letter seeks the voluntary cooperation of Internet sellers, asking them to cease selling and distributing these drugs to residents and businesses in Yavapai County or face legal action. The letter provides Internet sellers with a copy of Yavapai County's "Synthetic Drugs Community Protection Agreement for Internet Sellers" to sign, and a notice to post on their websites stating they do not sell these drugs.
Neither Polk nor anyone else in the business will ever win the "war" on drugs. It's like trying to eradicate cockroaches.
But that has never slowed Sheila Polk down.
She does not back down.
She is unwavering
She is persistent.