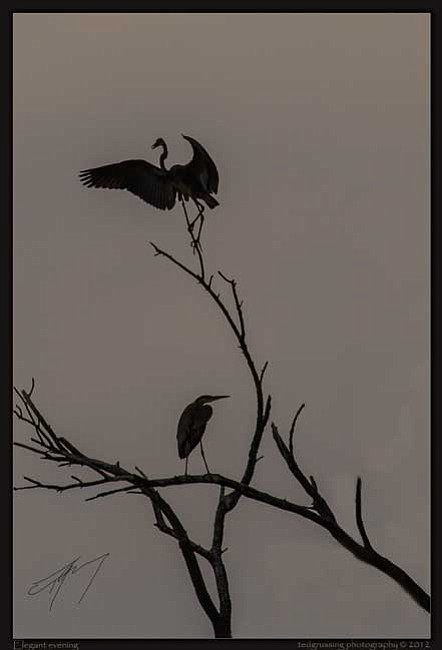 Originally Published: December 22, 2012 1:18 a.m.
... I took this shot after sunset and while there was still a light color and glow in the sky. Herons roost at night and more joined these two after I took this shot. Anyhow I hope you enjoy the image and that the weekend now underway will be a very good one for you.
I finally completed and uploaded the ted and corky website tonight. Check it out at http://tedandcorky.com . It is a complete from scratch remake of the site and many new images, slide shows and look and feel to it. I would also appreciate your feedback on the site and any suggestions you might have.
I have also finished the photography website and it is also a from scratch redesign of the site. There are six different galleries in the site based on the subject matter. I am only putting a dozen images in each gallery and will be rotating images in and out on a regular schedule. If you have a specific request let me know because the probability is that I have it. If all goes well it will be online by Monday.
So we're into the weekend; what a beautiful weekend it is preceding the Christmas Holiday. Keep your thoughts on the joy of the season and let light and love infuse your being that you may bring it into the dark of night and beyond.
Cheers
Ted
For life holds cheers as well as tears,
Take this old toast from me:
This world a riddle hard you call ...
A mess from which you fain would shrink?
Perhaps 'tis wisdom, all in all.
To learn to laugh as well as think.
Max Ehrmann
More like this story