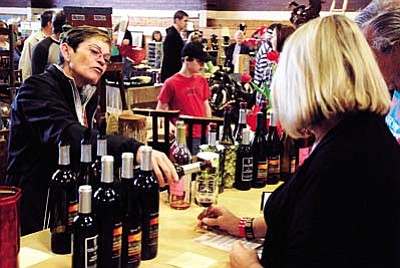 Originally Published: February 14, 2012 11:58 a.m.
Volunteer at Pecan & Wine Fest
Feb. 17-19
Verde Entertainments is in need of additional volunteers for the Pecan, Wine & Antique Festival in Camp Verde. If you are interested and can help out, please contact Barbara Goetting at (928) 567-7229 for more information on areas where assistance is needed.
Help VPOA clean up
Feb. 18
The Verde Village Property Owners Association will be doing its quarterly Highway 260 cleanup on Saturday. They will meet at the One in Christ Church parking lot, across 260 from the fire station, at 8 a.m. Volunteers should bring their own gloves and water. ADOT has provided vests and bags. Home Depot has provided several grabbers. VVPOA has several nail sticks. It is suggested that hats and long sleeves and pants be worn.
Join your friends and neighbors and help keep Arizona beautiful. If you have any questions please call Mal at 928-634-9785.
Chat 'n' Chew at Jerona
Feb. 28
Dr. Marta Adelsman's Chat `n` Chew discussion for this month is entitled "Say What you Really Mean." It will be 2:45–4 p.m. at Jerona Café in Cottonwood (on Mingus Ave. across from the post office).
How often do you miscommunicate, resulting in others feeling confused? Dr. Marta will offer ways that you can language and phrase common thoughts and feelings so that your communication is clean, clear and strong. For participants who want support regarding specific challenges they experience with family, friends and colleagues, Dr. Marta will offer suggestions.
Fee for the event is $10 per person, and the establishment requests that participants purchase at the door. Discussion begins at 3, with the first 15 minutes available to order coffee/food. Call (928) 451-9482 with questions or e-mail drmartacoach@gmail.com.
Computer Club discusses today's gadgets
Feb. 18
Saturday at 9:30 a.m. the Verde Valley Computer Club General Meeting will have Matt Shires with the presentation of 'Today's Gadgets'. Free. Clemenceau Building, Willard Street at Mingus Avenue, Cottonwood. Visit our website www.vvcclub.com, call Dave (928) 639-0106.
Square Dance with the Roadrunners
Feb. 25
The Cottonwood Roadrunners Square Dance Club will be hosting a Square Dance at the Cottonwood Civic Center, 805 N. Main St. Rick Gettelman be calling and Nancy Mouser will be cuing. Prerounds start at 7 p.m. with alternating mainstream and plus tips from 7:30 to 9:30 pm with two2 rounds in between. Come out and join the fun.
Free health education seminar
Feb. 16
Dr. Rick Malter will present his annual Valentine's Day free health education seminar that will address a number of questions related to heart health. What nutrients are vital for heart health? What role does stress play in heart health? What food additives put your heart at risk? How do emotions relate to stress and heart health? How do relationships affect heart health? Dr. Malter draws on his many years of professional experience and on 50 years of marriage for much of the information that he will present in this free health education seminar.
The seminar is in the Healing Arts Center, 753 S. Main St., Cottonwood, Room F6. Space is limited. Register today. Call (928) 649-9343.
What it takes to make an arrow
March 4
Red Rock State Park welcomes Chuck LaRue at 2 p.m. to present a hands-on program about prehistoric compound reed arrows that were used by early Native Americans in Northern Arizona as well as across the entire Southwest. A surprising variety of tools, raw materials, techniques, and skills were needed to make one of these arrows.
LaRue will have available a completed arrow and the known or possible tools and raw materials that were used to assemble a new one! Components available will be reed for the main shafts and how to straighten it, hard wood for the foreshafts, feathers, a quick demonstration on the extraction, preparation, and use of sinew (so useful it could be called prehistoric paleo duct tape!), and pigments for paint, all of which are included in making an arrow. It should be a fun-filled event as you have the opportunity to also see a hand drill fire start, basic flintknapping, and others uses of some of the stone tools created by early civilizations.
Free Electronic Recycling
Feb. 19-26
Recycle your unwanted electrical equipment from 10 a.m. to 3 p.m. at the Rimrock Mercantile across the street from the Montezuma-Rimrock Fire Station. Please drop off computer & office equipment, radios, small TVs, small appliances, phones, video game equipment, VCRs, any type of battery, satellite equipment, cameras, tapes, circuit boards, lab equipment, etc. Call Janet at (928) 592-2839 for other drop off times or with questions.
Loven Family Run to benefit VVMC
March 31
The inaugural Loven Family Run to benefit the building of the Verde Valley Medical Center Hospice Home is set at the Blazin' M Ranch in Cottonwood. Sponsored by the Loven family and hosted by the Verde Valley Medical Center Foundation, the event features a family 2K run/walk, a 5K run/walk and a 10K run.
Participants 'take their mark' at 8 a.m., and after crossing the finish line are treated to an old-fashioned country breakfast. Registration fees are $30 for the 5K and $35 for the 10K; fees for the 2K family run are $50 for up to four family members or $20 for individual participants. Spectators and bystanders may join participants at breakfast for just $8. For more information or to register, visit virtualroster.com or call (928) 773-2135.
Hikes and mountain bike basics at Dead Horse Ranch
March 24
Beginning in March, Park Rangers at Dead Horse Ranch State Park in Cottonwood will offer guided ranger-led hikes on Sundays and mountain bike ride/clinics on Saturdays. The hikes will be charged as part of the $7 park car entrance fee, however the mountain bike clinic/rides require an additional program fee of $5 per person.
"Nature Walks" will start every Sunday morning at 9 a.m. March 24-May 5, and last for 1-2 hours.
The guided hikes will meander along riparian areas or stroll through the high desert trails within the park.
Hikers need to bring plenty of water, sunscreen and wear appropriate clothing; sturdy shoes, and a hat.
Most hikes will start at the Quail Loop Campground so inquire at the gate when you come in for Nature Walk starting points.
"Mountain Bike Basics" will take place every Saturday afternoon starting at noon, and go until 4 p.m.
Park Ranger Randy Victory, a certified cycling instructor, will offer everything from basic riding techniques to trail etiquette. Although the rides are oriented towards adult beginners the minimum age is 15.
Riders will be required to wear a helmet and complete an acknowledgment of risk form (parents must sign for riders under 18 years old.)
They should also bring water and make sure their bike is in good working order. Flat protection (Slime tire sealant, for example) and riding gloves are recommended.
The rides will start at the Raptor Trailhead at the top of Roadrunner Road in the park. There will be a program fee of $5 per rider collected at the time of the ride/class.
The Dead Horse Ranch State Park day use Entrance Fee is $7.00 or Annual Passes are $75 for a family.
For more information about these types of park programs call Dead Horse Ranch State Park at 928-634-5283 or email rvictory@azstateparks.gov.
More like this story