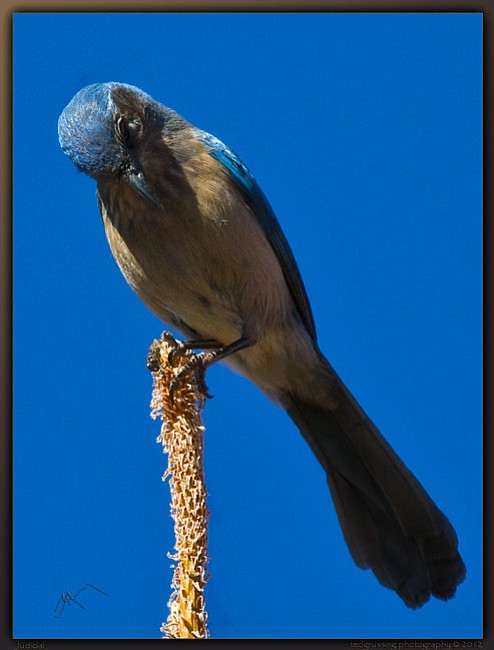 Originally Published: February 27, 2012 2:03 a.m.
... seemingly from the bench, but in reality from his perch about sixty feet above the ground this scrub jay has the presence of a judge rendering his verdict and then moving on to yet another tree. I had wanted to get some more shots of the eagle on Friday so after Corky's beauty shop appointment we headed down to the ponds with the Canon 7D sporting the 2.0 extender and the 70-200 lens giving me 400mm plus the 1.6 crop factor or the equivalent of 640mm glass at f5.6. I didn't see the eagle but got a few good shots of waterfowl; Saturday morning I went for a walk and got this Scrub Jay. Fun!
Got some airtime this afternoon and it was good to be back in the air after a month on the ground. Corky was going to fly too, but it proved to be a tad on the cool side for her. So I did a flight myself and then took a friend up. We closed out the weekend with another friend who came over for dinner ... now we have Monday well underway and it is looking good. Columbian don Rigo coffee beans will be whacked by the blades in the coffee machine in about five hours giving me my wakeup call and a very good reason to get up. This is an exceptional coffee from high in the Columbian Andes.
Corky is now eating more foods and has a strong swallowing mechanism ... life is sweet.
Enjoy the day, we are blessed
Ted
More like this story