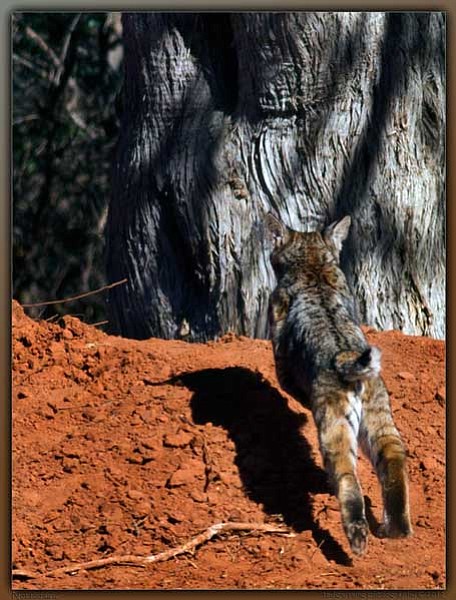 Originally Published: January 24, 2012 2:56 a.m.
... last Friday one of my favorite subjects decided that it was not going to be a day he would let me talk him into spending some time with me whilst I got numerous shots of him. I had forgotten to take off the lens cover when I left home on my walk last Friday and not until I saw this bobcat crossing the road about thirty feet in front of me did I notice that the lens cover was still on. In my haste I dropped the lens cover on the concrete path and it startled the bobcat who took off into some dense bushes and I pursued, hoping to get a shot of him. So it was through the brush, waiting quietly to listen for movement and finally he made a break for it and I got this shot from something over fifty yards as he was headed into some dense stuff on the way home. I continued to track him, but the brush was very dense and although I sighted him several more times, nothing I could get a shot of. So next time perhaps I will not spook him and we shall have that conversation and get some more posed shots.
It was a very good and long day on Monday ... lots of law and more. Corky had a good one too and this evening we spent more hours listening to audio books.
Have a terrific day and share some smiles; they are usually returned.
Ted
More like this story