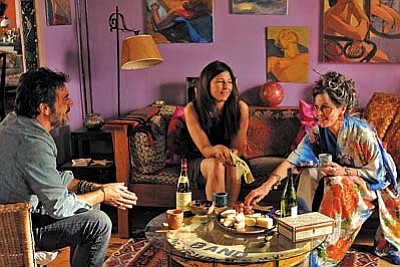 Originally Published: July 2, 2012 8:03 a.m.
Most people are familiar with the story of the Woodstock concert in 1969. The hippie concert was expected to attract 25,000 or so but actually brought half a million youths to the pasture in New York State that hosted the historic weekend.
But while most people are cognizant of Woodstock, it is an event that means a gathering of thousands of young hippies rejoicing, dancing, misbehaving and generally putting a cloak of finality on the 1960s. We usually do not hear about individuals involved (except in movies) and how their lives evolved from that historic moment.
Peace, Love and Misunderstanding is a film that informs us that some of the participants in the Woodstock Nation are still participating, in a way. And it does so with much humor, romance and a story that is ultimately a 'feel-good' experience.
Catherine Keener is Diane, a straight-laced lawyer in New York City. She has two teenage kids, collegian Zoe (Elizabeth Olsen) and high schooler Jake (Nat Wolff). The movie starts with Diane's lawyer husband, Mark (Kyle MacLachlan), announcing he wants a divorce. They both realize their marriage is no longer working.
Diane decides to get away for a spell to try to set a course for the rest of her life. She packs the kids in the car and they drive up to her mother's home in Woodstock. Diane has not had any contact with her mother for 20 years. The kids have never met their grandmother. Zoe is kind of bored with the whole trip, but Jake is a passionate budding film-maker. His video recorder never stops as he shoots every road sign, every fence, every person and even every cow he sees. By the end of Peace, Love and Misunderstanding, he has assembled his videos into an impressive documentary.
We now meet Grace, Diane's mother. Diane and the kids walk into the house, which is in a state of disarray, partly due to the chickens wandering around the living room. In comes Grace (Jane Fonda) and she is the exact image of a 1969 hippie, except for the wrinkles that betray her age. She welcomes Diane warmly, but it becomes evident that Grace is still doing everything she was doing 40 years ago - defying authority, growing and selling cannabis, practicing free love and organizing weekend protests for peace and love with a large group of like-minded overgrown hippies.
Diane is repulsed but the teenagers are fascinated by Grace and her life.
One of Grace's followers is a man who is handsome, articulate and a talented musician. He immediately sets his sights on Diane. At one of the rallies, Zoe meets a young man who is handsome and surprisingly as well educated as she is. He immediately sets his sights on Zoe. Her problem is that she is a vegan and he's a butcher. Jake meets a young girl who is pretty, smart and very friendly. She immediately sets her sights on Jake. The tension between Diane and Grace oscillates from friendliness to outrage as Grace introduces the kids to pot and the idea of love as the answer - to everything!
Diane/Keener is the central character here and she is excellent as the uptight, saddened and abandoned woman. Jane Fonda is Grace and she is just wonderful in the role. She is not made up to look younger than Grace is and she makes the most of Grace's flamboyance and free spirited life style. The kids and the men in Peace, Love and Misunderstanding are also terrific in their portrayals. At the end, you may think, "So that's where they are now, those flower children." And you'll be smiling as you leave the theater.
Peace, Love and Misunderstanding (from 2011) was shown at the Sedona Film Festival's charming and welcoming Mary D. Fisher Theater. Watch for it in theatrical release or on DVD.