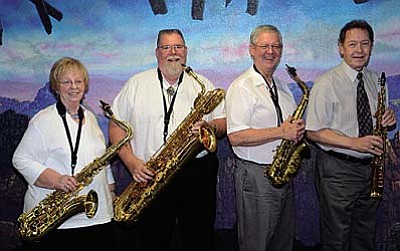 Originally Published: July 17, 2012 1:01 p.m.
Craft Show and Sale at Post 25
Aug. 4 & Sept. 8
Cottonwood American Legion Post 25 will be hosting a Craft Fair and Sale from 9 a.m. until 3 p.m. Members and guests can participate in some shopping or display their crafts for the day. The "At Ease" Café will feature a tasty lunch special and the lounge will offer drink specials for all to enjoy. For table rental information contact John at (928) 274-4334. All Veterans are invited to become members and enjoy the benefits of the Cottonwood American Legion Post 25. Call (928) 634-3004 for information.
Friday Night Fish Dinner at Post 25
July 20
Cottonwood American Legion Post 25 will be serving a delicious fish dinner from 5 to 7 p.m. on Friday in the "At Ease" Café. There will be drink specials in the lounge and Karaoke from 8 p.m. until 11 p.m. Members and their guests are encouraged to stop by and enjoy an evening of food and fun. All Veterans are invited to become members and enjoy the benefits of the Cottonwood American Legion Post 25. Call (928) 634-3004 for information.
Sedona Sacred Dance Guilds performs
July 21
Dancers from the Sedona Sacred Dance Guild are excited to perform at the Mary Magdalene Celebration Saturday.  The performance gives the dancers a venue to express their deepest spirituality through movement. This year's theme looks at the evolution of male-female relationships.
For info about the Sacred Dance, call Lainey Hanson 282-0593. To reserve for The Mary Magdalene Celebration at the Sedona Creative Life Center, call (928) 649-0135 or email blitrell@aol.com. Fee of $40 includes lunch.
Salvation Army's Pack to School Drive at Fry's
Thru July 31
The Salvation Army's 2012 Pack to School Drive, in partnership with American Express and Fry's Food Stores, has begun. The school supply drive runs until July 31 and will benefit local students and The Salvation Army. Donations are being accepted at the Fry's Food Stores in Cottonwood and Prescott Valley. The Salvation Army is seeking contributions of basic school supplies such as backpacks, crayons, colored markers, pens, pencils and the like.  
For more information about the drive, please visit The Salvation Army's Web site at www.salvationarmycares.org or contact Abby Rolfs at (602) 267-4289.
Movie-flavored Day of the Cowboy at Tlaq
July 28
Tlaquepaque Arts & Crafts Village celebrates the National Day of the Cowboy from 10 a.m. to 6 p.m. There will be music, food, bounce house for kids, gunslingers and a sneak peek scavenger hunt for artifacts that will be on display in Arizona's Little Hollywood Museum.
Author Joe McNeill will sign copies of his book "Arizona's Little Hollywood," and watch out for "zombie cowboys." Also look for the mechanical bull from noon to 4 p.m. in the Calle at Tlaquepaque. All proceeds will be donated to the Arizona's Little Hollywood Foundation nonprofit organization established to build the new film history museum.
Ranch House Coalition annual meeting
July 22
The Ranch House Coalition Membership annual meeting inside the Ranch House Restaurant is set for 4-8 p.m., with a soft opening scheduled a few days later. Featured will be a $20 per person dinner buffet in the dining rooms and a cash bar in the new Rusty Spurs Lounge. Members are invited to tour the facilities, sample the fare and meet the staff.  This will be a great opportunity to share your comments and make suggestions on how to further improve upon the facility.
Please RSVP at the Pro Shop at (928) 567-4487 by July 18.
Lecture on VVMC's New Stroke Program
July 18
Verde Valley Medical Center (VVMC) is sponsoring the Camp Verde Lecture Series. The July lecture, VVMC's New Stroke Program, will feature Elwood Hopkins, M.D.
The lecture is 4:30–5:30 p.m. at the Camp Verde Marshal's Office Training Room, 646 S.
First St., Camp Verde. To R.S.V.P. or for more information on this free event, call (928) 639-6551.
Stories and Crafts for Children at the Camp Verde Library
July 18
What's more fun in summer for kids than stories and crafts? On Wednesday, from 10 a.m. to noon the Camp Verde Community Library will offer both.
Presenters from the Desert Star Community School in Cornville will share "Stories & Crafts for Ages 5 & Above."
Crafts will include modeling with beeswax, and finger-knitting and more.
Bring your children and join the fun.
The program will held in the Children's Room at the Camp Verde Community Library off Montezuma Castle Highway on Black Bridge Loop Road. This program is suitable for children five and older. For more information call the Camp Verde Library at (928) 567-3414.
Verde Valley Regional Chamber Mixer
July 24
All chambers of commerce from Cottonwood, Camp Verde, Clarkdale, Sedona and Jerome are invited to the Verde Valley Regional Mixer from 6 to 8 p.m. at Cliff Castle Casino-Hotel's Conference Center.
It's Fiesta Night, with margaritas, select beers and wines, soda and water.
There will also be raffle prizes. Admission is $10 and includes appetizers and two drink tickets.
For information call (928) 567-9294.
Back to School
Aug. 8
Clarkdale-Jerome School starts Aug. 8, and registration is ongoing at the school office at
1615 Main St. in Clarkdale.
Cottonwood-Oak Creek District starts school Aug. 8. Currently, registration is being done in the district office at 1 N. Willard St. in Cottonwood. As of July 24, when the district schools' offices open, registration will be done at each school's office.
Human Resources Association meets
July 18
The Verde Valley Human Resources Association meets Wednesday at noon in the Cottonwood Public Safety Building, 199 S. Sixth St., Cottonwood. There will be a new officer installation and panel discussion. Bring a side dish to share, as this will be a potluck. The panel discussion will deal with the topics of resources members use to stay current on HR topics and workplace dress codes. Other topics will be discussed as time allows. Guests are welcome.
For information, contact Lori Jackson, Lori.Jackson@nahealth.com (928) 639-6388.
How to Help the Mentally Ill
July 20 & 27
It's easy to tell when someone might be suffering from a heart attack, is choking, or is unable to breathe. But what does depression look like? Or anxiety? Have you met people experiencing suicidal thoughts or behaviors?
Over 100 people have now received training in Mental Health First Aid at the Verde Valley Guidance Clinic, and a new class is now forming. The next class will take place from 9:00 am to 4:00pm two successive Fridays, July 20 and 27.
The free classes are offered at the Clinic's Cottonwood campus, 8 E. Cottonwood St. To register for this class, call Sharon Stingerie, 634-2236.
Meditation therapies for cancer survivors
July 21
The next free Lunch & Learn at Verde Valley Medical Center, "Meditation Therapies for Cancer Survivors," is noon–2:30 p.m. The session will be in VVMC's Conference Room B, 269 Candy Lane.
Staff from the Sedona Meditation Center will discuss the benefits of meridian stretching, collaborative healing and chakra balancing.
Guidance regarding experiencing increased stress reduction and improved clarity through these strategies will be offered.
To RSVP or for more information on the Lunch & Learn, call (928) 204-4160.
More like this story