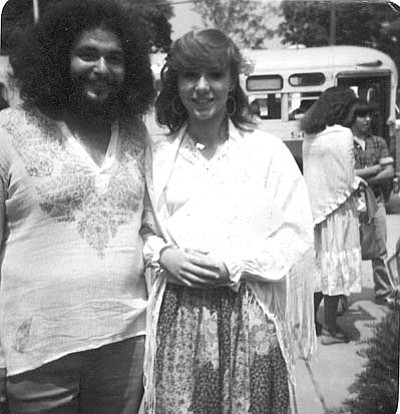 Originally Published: July 20, 2012 1:13 p.m.
The year was 1978. I was 15 and graduating from John F. Kennedy Jr. High in Springfield, Mass.
The gentleman in the white suit was our vice principal. I'm standing next to him with my three best friends, BFFs for you youngsters. The hippie guy was our geography teacher, Mr. Finklestein.
One day in class, he asked if anyone knew anything about Germany. One classmate, Gary Hess, stood up, pulled out a pocket comb, held it under his nose, stuck his arm out and shouted, "Heil Hitler."
Mr. Finklestein turned absolutely red with anger, picked up a very heavy geography book, walked over to Gary Hess and started beating him over and over again, until Gary was cowering in a corner.
Well, you can imagine what happened. Bet you can't unless you, too, are a Baby Boomer. The vice principal gave Mr. Finklestein a strong talking to, and Gary was suspended for three days for disrupting the class.
And that's the way it was in 1978! These days the teacher would have been fired and sued and the kid would've been on TV as an abused child just expressing his individuality.
Ah, the good old days.
More like this story