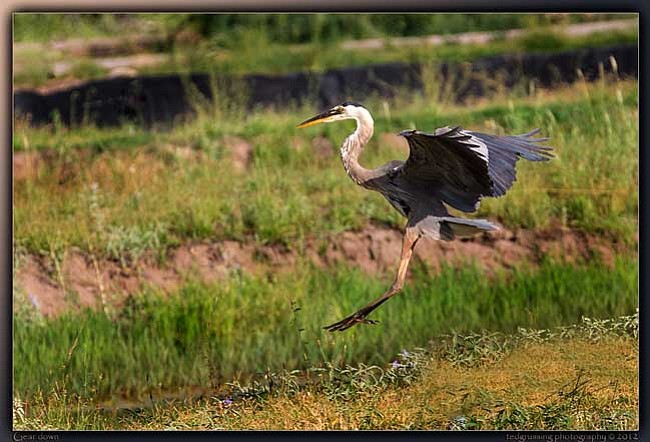 Originally Published: July 30, 2012 2:08 a.m.
... a wee bit late again ... I am trying though. This Heron was not arriving late though and I got the shot a split second before he touched down near one of the ponds. Flight never ceases to fascinate me and the various transitions involved in either attaining flight or the landing phase. The Canon 1DX is performing flawlessly and is likely the best camera for wildlife ever produced. A great place to purchase cameras and related equipment is ePhotocraft and talk to Eldar or Jack: http://ephotocraft.com or 877.374.6869 . I've been doing business with them for years and have only good things to say about them.
We had a fun weekend! This morning things didn't go quite as planned so we arrived at church a wee bit late (actually that is more normal than not) and they had already begun taking the offering. I noticed George staring at me until I began to write the check on Corky's lap before sitting down. I think he nodded his approval. Following church we stopped and spent an hour or so visiting with a friend and then home. Enjoyed watching the Olympics and then some intensive gem cutting. A friend stopped in for dinner and a movie.
Fun day underway and the week has begun. Make the choice to have a good one ... like why would anyone choose to have anything but a good one?
Smiles!
Ted
More like this story