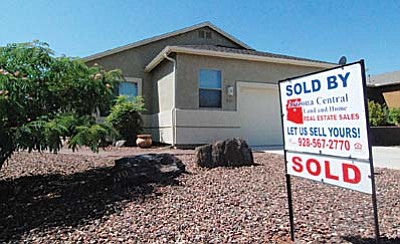 Originally Published: June 4, 2012 5:37 a.m.
For most of the last year, Verde Valley real estate agents and brokers have likened the local market to a fishing lure bouncing its way across a rocky lake bottom -- a lot of ups and downs but nothing steady.
But sales statistics from the same period clearly shows the bait wasn't so much bouncing as it was floating, slowly but steadily upward.
"It reached the bottom a year ago, by all measures, and has been steadily rising since then, both in the number of units sold and their values. It feels like 2006," says Dan Mabery, broker for Coldwell Banker in Cottonwood.
Multiple Listing Service statistics for homes sold across the valley, of all types, indicates the median home sale price rose about 10 percent in the period of January through April, this year versus a year ago.
According to Mabery, there are several factors driving up the price of homes.
"The affordability is at an all-time high. Home prices are still low and interest rates, which are at 4 percent or lower, put us at affordability levels not seen since the 1950s or 1960s.
"The occupancy rate for rentals is over 97 percent giving investors a rate of return in the 7-plus percent range. And the number of short sales and foreclosures has dropped from a seven-month supply to less than four," he says.
Gary Thompson with Arizona Central Land and Home in Camp Verde says that although some categories continue to lag, the overall picture has improved significantly.
"It's a strange market and there is a little mini buyer frenzy going on. We have seen a 4-percent increase this year in the lower valley.
"In some places like homes in the Views and Cliffs subdivision, the price increase is closer to 20 percent. But in raw land, although we have seen more activity, they are still giving it away," says Thompson.
Thompson credits reductions in the market inventory for much of the increase.
"A year ago there were 20 homes for sale in the Cliffs and the Views at any one time. Today the number may have two on a good day," says Thompson.
Perhaps more significant, says Thompson, is the number of homes in the $200,000 to $300,000 range that have begun to sell.
"We have actually turned more $300,000 homes recently than we have in two years. The market is finally coming back. That says that people out there have confidence that it's not going to drop any more.
"Let's face facts. If you bought a $100,000 house and it drops a little more, how much can it drop? But if you buy a $350,000 house and things are still dropping you could lose a chunk," Thompson points out.
As for the new home market, there are positive signs, but as Mabery points out, more adjustments may be needed before it sees a significant recovery.
"We are seeing bits and pieces of construction," says Mabery, "You talk to contractors and they are a little busier than they were a year ago.
"To me the turn-around point is going to be when enough people say the cost of the houses on the market is close enough to a new construction that they will pay the little bit of difference so they can get new warranties and etc. and get exactly what I want."
More like this story