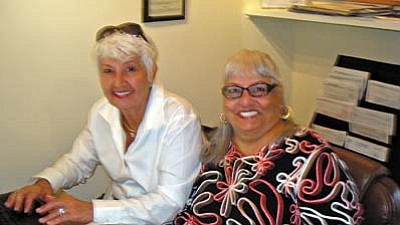 Originally Published: March 1, 2012 1:15 p.m.
Yes, there is a library in the Village of Oak Creek.
In fact, Sedona Public Library (SPL) has been in the Village for several years.
Many of you may recall returning your library books to the big box located inside Weber's IGA. In December of 2005, SPL opened a small service center located on Cortez Drive.
Dotte Vande Linde efficiently managed this library until her retirement in 2010. Subsequently, several individuals serving on the SPL-V committee recognized the need to expand to a larger space.
They had a vision, acquired funding from Yavapai County, and moved SPL-V to Tequa in January of 2011.
What began as a library box located inside Weber's IGA has evolved into a busy library where patrons may check out and return library materials, pick up items on hold, and access the Internet.
The popularity of SPL-V is most evident by the statistics compiled by Virginia Volkman, Director of SPL.
Since opening in 2005, more than twice the number of new cards has been issued each year. The number of books being borrowed by Village patrons has increased 75 percent.
The number of patrons visiting SPL has more than doubled. Sedona Public Library in the Village is no longer a secret. Tell your family, tell your friends, tell your neighbors, tell visitors.
Do you want to learn more about the vital role that women played in Arizona history? If so, plan to attend the next Arizona Humanities Council program on Monday, March 19.
Pam Knight Stevenson will present "Arizona Women Journalists: 100 Years of Change." The speaker has been involved in researching and writing about Arizona history for more than 30 years.
The program, which is free and open to the public, begins at 1:30 p.m. at Sedona Winds, 405 Jacks Canyon Road.
Back by popular demand … SPL-V will host another Kindle workshop on Thursday, March 22, 5-6 p.m.
Join Sedona Public Library staff as they guide you through the steps to download free library e-books to your Kindle. To get the most out of this class, it is best that you are familiar with the basic operations of your Kindle before you come to class. You will also need your SPL library card and your pin number.
Please bring information to access your account with Amazon. If you do not have an account with Amazon, you should create one before the workshop.
Due to limited space at SPL-V, you must sign up for this Kindle workshop.
This workshop will fill up quickly, so please call 928-284-1603 or stop by SPL-V to register. If you are interested in attending a workshop for another type of e-reader such as a Nook or an iPad, you may access the Sedona Public Library (SPL) website at sedonalibrary.org for information about e-reader workshops offered at the main library.
Sedona Public Library in the Village features a Rotating Artists Program. Don't miss Steve Simon's current art exhibit entitled "The Great Peacemakers."
You will be inspired. Steve's work will be displayed at SPL-V until Saturday, April 7.
For more information about the artist and his work, you may access the artist's website at stevesimon.com.
Thank you for your support and donations to continue library services in the Village.
SPL-V is located in Suite C-102 at 7000 Highway 179 in the courtyard of Tequa Plaza.
Hours are 1-5 p.m. Tuesday through Friday and Saturday from 9 a.m. to 1 p.m.
The library is closed Sunday and Monday, but you may use the 24-hour book-drop boxes located in the parking lot facing Highway 179 to return library materials from ANY library in Yavapai County.
We invite you to stop by SPL-V to use the computers, pick up your holds, access the Internet, and get a library card. You can also enjoy the outdoor fountains and admire the amazing red rock views from Tequa Plaza.