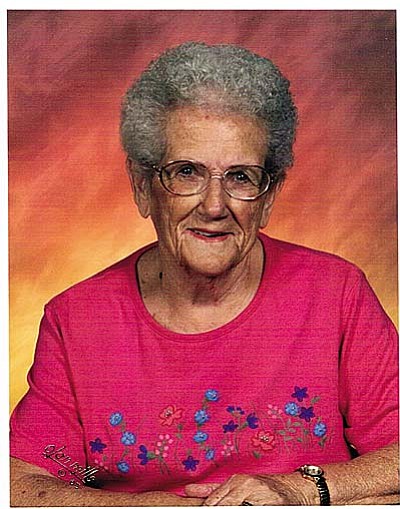 Originally Published: March 17, 2012 1:09 p.m.
Jessie E. Whitmarsh, 90 of Cottonwood, passed away on Tuesday, March 13, 2012. She was born on May 17, 1921 in McMillan, Michigan to John J. and Florence Hanger.
Jessie attended McMillan Elementary and High school then onto college. She worked for the National Institute of Health.
She was great secretary in her job. A true leader and mentor to her family whom she loved very much.
Jessie was a good cook, bowler, speed-reader, good Christian and loved her family at Verde Baptist Church. She was also very proud of her 4 children that served honorably in the US Military. She loved all sports bust most of all loved watching and participating in her own children's sports. She enjoyed all family gatherings and all her lady friends for picnics, Barbeques or a luncheon. She did 3 leagues in bowling and enjoyed traveling, casino gambling, concerts, reading, knitting, crocheting, cooking and most of all family gatherings.
Each family member knew they were loved deeply. She was fun to be around at any time.She will be deeply missed by her family and friends whom she cared so deeply for.
Jessie was preceded in death by her husband John Whitmarsh; sons JJ Whitmarsh and Terry Whitmarsh; 2 grandchildren and 1 great-grandchild.
She is survived by son Harry Whitmarsh (Rose) of Flagstaff; daughters Reba Khatam (Jesse) of San Diego, CA and Betty Clark (Dave) of Cottonwood; daughter-in-law Debbie Whitmarsh of Maryland; sisters Lavon Wittermeyer (Amos), Mary Lee Guzinski (Ben) and Beverly Payton (Meryl) all of Michigan; 7 grandchildren and 10 great-grandchildren.
A private family memorial service wil be held at a later date.
An online guestbook is available at www.westcottfuneralhome.com
More like this story