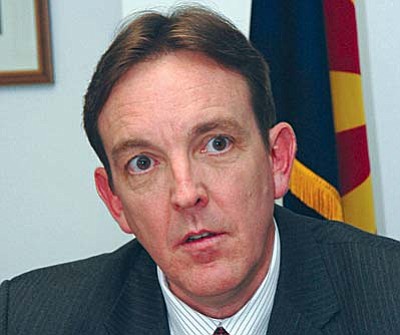 Originally Published: May 17, 2012 1:50 p.m.
COTTONWOOD - Arizona Secretary of State Ken Bennett will be the guest speaker for the Cottonwood Chamber of Commerce luncheon, Tuesday. The monthly luncheon will be held at the Cottonwood Recreation Center from 11:30 a.m. until 1 p.m.
The Chamber is asking those who attend to RSVP by Friday to the Chamber office at 634-7593. Cost is $16 for members and $18 for non-members.
Bennett was appointed to replace Governor Jan Brewer as Secretary of State in Jan. 2009, but he led a long political career prior to his current post.
Bennett, who was CEO of Bennett Oil in Prescott, was elected to the Prescott City Council, member of the Arizona Board of Education, a four term State Senator and Senate President.
He returned to the private sector from the legislature and worked in the alternative fuel industry before he was chosen Secretary of State.
- Jon Hutchinson
More like this story