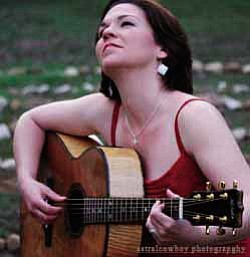 Originally Published: May 31, 2012 1:01 p.m.
Vacation Bible School at Faith Lutheran
Faith Lutheran Church will host Vacation Bible School June 11-15 from 1-4 p.m. Mark your calendars now for a fun-filled week. This year's theme is "Adventures On Promise Island." At Promise Island, kids will experience the powerful, unchanging promises of God, as they enjoy songs, crafts, games, goodies and dramas.
For more information, contact Faith Lutheran Church, 2021 E. Fir St., Cottonwood at (928) 634-7876.
Calvary Chapel Bible School
June 18-22
The Vacation Bible School 2012 entitled "Adventures on Promise Island" will be held June 18-22 from 8:30-11:30 a.m. at Calvary Chapel, 514 Main St., Camp Verde.
Admission is free.
Register at church office or 1st day of Vacation Bible School. For more information call 567-2171.
Singer-songwriter Cara Marie at Bent River Books & Music Saturday
Singer-songwriter Cara Marie made her way from the East Coast to Austin, Texas. While in Austin, she recorded her latest CD at Willie Nelson's Pedernales recording studio. Now Cara has made her way further westward, settling in the Verde Valley.
Cara has a fantastic voice and a unique sound, and will perform at Bent River Books & Music in Old Town Cottonwood June 2, 6 p.m.
All shows are free with a suggested donation for the musicians.
If You Go …
• What: Concert at Bent River
• Who: Cara Marie
• When: Saturday, June 2nd at 6pm
• Where: Bent River Books - 1010 N. Main, Old Town Cottonwood
• Contact: (928) 634-8332
Art fund-raiser for Cottonwood Library
THE MANHEIM GALLERY in Old Town Cottonwood has organized a fundraising event for the benefit of the Cottonwood Library.
The focus is, naturally, on Art and Books. Small artworks, each 6 inches by 6 inches, have been created and donated by local artists using a theme of "Books" as inspiration. On June 9 from 4-7 p.m., these gems will be unveiled at a reception at THE MANHEIM. The artwork will be for sale through the end of June. In July, the proceeds from the sales will go directly to Bookmarks, the volunteer group that raises money for the Library throughout the year. Bookmarks uses funds they raise, principally from the sale of books generously donated by patrons, to support projects not within the Library's budget. Such funds make possible the purchase of Rental Books and meeting special needs in the Youth Services area.
The event gives us all a chance to give something extra to help the Library to better serve our entire community. Come meet the artists, feast your eyes on the beautiful art crafted generously for the fundraiser, and take home a piece of original art for yourself, for your friends, for your family, and especially for the Library. Help make possible even more programs for us all by your generous purchase of art.
For more information regarding the Library fundraiser, contact Margo Mitchell at 928-639-0879 or ml.mitchell62@gmail.com.
THE MANHEIM GALLERY is located at 747 N. Main Street, Old Town Cottonwood. Parking for the event will be available in the gallery parking lot on 5th Street behind Zoomer's Bike Shop.
Cottonwood Recreation Center summer activities
The Cottonwood Recreation Center will host organized activities for all ages in the gym from 1-4 p.m., Monday through Friday. Mingus Union High School graduate and 3-sport athlete Andrew Hickey and Mingus Union High School Senior Varsity baseball player Robert Valentine will conduct games and tournaments such as, dodge ball, capture the flag, volleyball, basketball, whiffle ball, and ultimate Frisbee. Get off the couch and invite your friends for some good fun for the summer. The only cost to participate in these events is having a membership or purchasing a day pass to the CRC. There is a calendar for June's gym events at the front desk or call 639-3200 for questions.
Free Summer Food Service
Free lunches at New Beginnings Church
The New Beginnings Church of the Nazarene will provide free lunches to anyone 18 years old and younger and to seniors 65 years and older. This service is offered Monday-Friday, 11:15 a.m. to 12:15 p.m., June 4-22.
The church is located at 644 S. 7th Street in Camp Verde. RSVP at 928-567-6336 as supplies are limited.  
Clarkdale's 2012 Concerts in the Park:
• June 9, 7-9 p.m., Major Lingo sponsored by The Clarkdale Foundation
• June 23, 7-9 p.m., Sentimental Journey sponsored by the Clarkdale-Jerome Lions Club
• July 14, 7-9 p.m., Knuckleheads
• July 28, 7-9 p.m., Janice Paul Quartet
• Aug. 11, 7-9 p.m., Aces N Eights
• Aug. 25, 7-9 p.m., Burnett Family Bluegrass
• Sept. 8, 7-9 p.m., Cadillac Angels - Sponsored by The Clarkdale Foundation
Steaks cooked to perfection at
American Legion Post 93
American Legion Post 93 Presents Steaks by Randy & Suzie Bruce Saturday June 2.
The American Legion Post 93 286 S. 3rd Street Camp Verde Presents steaks cooked over a barbeque grill to your liking from 4-7 p.m. The Tad Justice Band will perform for your listening pleasure at 4 p.m.
June Diamondback
Bus Trip
Camp Verde Parks & Recreation is now taking reservations for a bus trip to the Arizona Diamondbacks, June 22nd game against the Chicago Cubs. Game time is 6:40 p.m. and the cost is $42 per person for bus trip and ticket. Seats are in section 112 and only 40 tickets are available, so hurry and reserve your seat today.
For more information call Parks & Recreation at 567-0535 ext. 136.
Meadowlark to perform at Pillsbury Wine Co.
Live Music Saturdays in The Tasting Room at Pillsbury Wine Company in Cottonwood features the music of Meadowlark June 2, 3-6 p.m.
This intriguing duo will perform instrumental compositions inspired by Sedona and the desert Southwest including guitarist Rick Cyge's composition, "Creek Spirit," written about flutist Lynn Trombetta's experience in the canyons of Sedona, where she spent her childhood summers, playing her flute from high and allowing the sounds to waft down through Oak Creek.
For more information and video, visit http://www.MeadowlarkMusic.com.
The Pillsbury Wine Tasting Room is an intimate space offering 100-percent Arizona blends. "I am committed to making regional wines exclusively from Arizona. We import neither grapes nor wine. The wines we make come from this region only," states New Zealand film director and winemaker Sam Pillsbury. See more details about the Wine, as well as the chocolate and toffee tasting at http://www.pillsburywine.com .
The Tasting Room at Pillsbury Wine Company is located at 1012 North Main Street in Old Town Cottonwood, phone: 928 639-0646.
Buena Vista Children's Services offers parenting class this summer
Bullying Awareness. Learn why children bully, the warning signs that a child is being bullied and what to do if your child is being bullied. Bullying can take many forms, such as; hitting, kicking, threatening others, teasing, name calling and excluding others from a group. Joy Gallagher, Early Childhood Consultant, will be presenting this workshop.
This June 9 class is geared for families with children 5 years and younger. FREE child care is limited and available to those who register.
This workshop is hosted by Buena Vista Children's Services and funded by Community Counts through a grant from First Things First.
The class is located at Bright Futures Child Care 19 E. Beech St. Cottonwood. June 9, 9-11 a.m.
To register, contact Joanne Schloeman at Buena Vista Children's Services. 928-451-5755 or email us at parenting.bvcs@gmail.com
Crawdads are coming to Camp Verde
June 1-2, the Camp Verde Crawdad Festival returns at the Salt Mine Cellars, 212 Finnie Flat Road in Camp Verde. Crawdads will be served both evenings starting at 5:30.
Musical entertainment will be provided starting at 5 p.m. on Friday with Reno and Sheila, followed by the Out Lawz Band. On Saturday Black Leather Zydeco from Tucson will add a dose of Cajun flavor to the evening.
Admission includes a crawdad dinner with all the fixings, or if you are not a crawdad fan, a steak dinner or one of Salt Mine Cellars' super pizzas.
Cost is $20 in advance and $25 at the door. There is free admission for children accompanied by a parent but the child's meal is separate.
Advance tickets are on sale at Camp Verde Chamber of Commerce visitor Center, Horn saloon, Camp Verde feeds, Sweet grace, Camp Verde reality, Laidback jewelry, Golden Bone, thanks a latte, and Healthy Thymes.
They are also on sale at KA Cycle, the Barber Shop and Connection Concepts in Cottonwood.
New Farmer's Market at Cornville Mission
A new farmer's market takes place every Wednesday, 4-7 p.m., at the Cornville Mission Food Bank located at Cornville and Page springs roads. It will take place every Wednesday and 10 percent of all revenue that generated at the market will be donated each week to the Cornville Mission Food Bank.
Homeless coalition meeting set June 6
Verde Valley Homeless Coaliton is meeting on June 6, 2 p.m. at the Verde Valley Guidance Clinic in their Community Room. You will hear a progress report from the newly formed Board of Directors of the Cold Weather Shelter which is still scheduled to be running by fall. Since the last meeting, there have been a couple of options presented to the Homeless Coalition for consideration which everyone will find exciting and have opportunity to discuss. For more information, contact Marilyn Williams, 634-4254 X 54118. Public is welcome.
Cottonwood Police to hold bike sale
On Saturday, June 2, the Cottonwood Police Department Property and Evidence Section will hold a bike sale, open to the public starting at 7 a.m. The sale will take place in the parking lot of the Cottonwood Police Department located at 199 S. 6th St., Cottonwood. An assortment of about 60 bikes will be available for purchase by the general public beginning at 7 a.m. They are all part of an inventory of unclaimed bicycles that were impounded and held at the police department for over 90 days. The bikes are in varying conditions, and as such, prices will depend on the bike selected. The bikes will be pre-arranged in terms of condition and price and will be available for purchase on a first-come, first-served basis.
Beginner hula classes for women
Kehau Chrisman, Kumu Hula (Hula Master) from Hawaii, announces open enrollment for Beginning-Hula Women's Class, ages 16 and older, in Cottonwood on June 4, 7-8 p.m.  
The cost for this six-week workshop is $48, payable at the first session.  Classes will be held every Monday at the Cottonwood Civic Center in Old Town Cottonwood, 805 N. Main Street.  
Participants should bring notepaper, and wear something comfortable.  This initial stage will run 6 weeks, and participants will have the option of continuing on a weekly basis after that.
Chrisman, formerly of Hawaii and now a Cottonwood resident, has been teaching hula in Cottonwood since early 2004. Halau (school) members now number over 50, and spans from Prescott Valley to Flagstaff.  
Chrisman has 30 years of hula experience and has been fully trained as a Kumu Hula (Hula Master), graduating with formal ceremonies in 2000.  Her hula lineage of teaching includes an integration of Hawaiian dance, music, language and culture.  
Hula has great depth and is more than just dance movement.
For more information, visit www.arizonahula.com.  
You can also call Kehau Chrisman at 639-4683.
More like this story