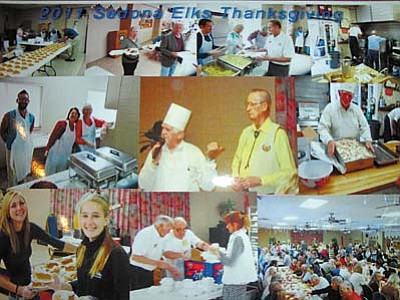 Originally Published: November 19, 2012 8:01 a.m.
Sedona Elks Lodge #2291, 110 Airport Road, invites you to the annual free community Thanksgiving dinner on Nov. 22.
The Elks served 1,086 free meals last year, a record number. Eight hundred sixty-one people gathered in a cozy atmosphere at the lodge and 225 meals were delivered, which makes it a true community event.
The Thanksgiving dinner will include all the traditional items on the menu. More than 40 turkeys will be cooked and served with dressing, mashed potatoes, gravy, vegetables, cranberry sauce, rolls and pumpkin pie with whipped cream.
Live music will be provided throughout the day. The event starts at 11 a.m. and ends at 3 p.m.
Volunteers are still welcome. Please call 282-7571.
Although the main mission of the Elks is to exemplify the principles of charity, justice, brotherly love and fidelity, Elks members enjoy the many activities and fellowship that the organization has to offer.
The only requirements to join this inspirational organization are American citizenship, being over 21 years of age and to believe in God. No one is ever excluded because of religion, race, gender or ethnic origin.
To learn more, visit www.sedonaelks.org.
More like this story