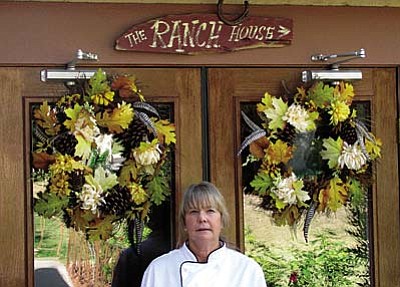 Originally Published: October 1, 2012 8:01 a.m.
With nearly a month of fine-tuning of the new Ranch House Restaurant in Lake Montezuma since its grand opening Sept. 1, its management and membership decided that a reorganization was necessary in order to be the great eating establishment it is destined to be.
Chef Christina (Chrissie) Hathor brings with her an extensive background in quality food service, preparation and presentation. She is a certified graduate of the Marriott Executive Chef Program at the Culinary Institute of America in Hyde Park, N.Y., and has more than 30 years of experience in culinary management and supervision.
Most recently, Chef Chrissie worked as Food Services director and executive chef in the health care industry. She has served as the Food Services director for Verde Vista Care & Rehab in Camp Verde since 2010, Mountain Valley Regional Rehab Hospital in Prescott Valley since 2007 and Peridot Retirement and Assisted Living in Prescott since 2005.
Her Arizona dining experience includes chef and executive sous chef at Forest Highlands Golf Club and Mi Amo Spa Café of Sedona, as well as other resorts and restaurants in Oregon.
Chrissie served as chef at the Marriott Corporation based in Oregon from 1991 to 1997. Most notably among her many accomplishments as chef at the Marriott Corporation was her role in the planning and execution of dinners for Mr. Marriott's guests and Executive Board and the service of large meals for Bill Gates and up to 15,000 guests.
Among additions to the new staff assisting Chef Chrissie, currently on a part-time basis, is Chef Wbaldo Molina, chef at Sedona Golf Resort since 1997, and Carlos Ortega, also with the Sedona Golf Resort.
For more information about the Ranch House Restaurant, 4250 Montezuma Ave., Lake Montezuma, call (928) 567-4492.