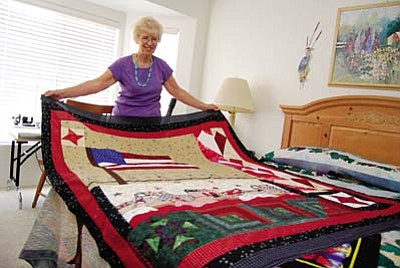 Originally Published: October 2, 2012 8:05 a.m.
Every April the population of Paducah, Ky., doubles as thousands of quilters arrive to pay homage to the best of the best, at the annual American Quilter's Society Show and Contest.
Because of this event, and all that has sprung from it, the little town at the confluence of the Ohio and Tennessee Rivers has become to the quilt-sewing world what Cooperstown is to baseball.
To be selected for the Paducah contest is the equivalent of being chosen to play in the All-Star game. Winning a ribbon is like taking home a World Series ring.
Cornville resident Eunice Hill tried twice to compete in the Paducah show, once in 1991 and again in 1993. Both times her work was accepted. And both times she took home ribbons.
Over the last 25 years she has won numerous other awards. In her home state of Minnesota, where quilting is queen, she was named Quilter of the Year in 2004.
For the last 15 years she has taught classes around the country on all aspects of quilting, from design to technique. She also has her own successful company, "Bee Creative Designs," which markets quilting patterns around the world.
By any definition, Hill is an all-star -- perhaps not on the same level of Babe Ruth or Joe DiMaggio, but she would have no problem sewing up a spot on their team.
World-class appraiser
Along with her resume as a world-class quilt maker, Hill has one other credential that sets her apart from the crowd. She is one of only 90 quilt appraisers in the country, certified by the American Quilter's Society.
It is not a title that comes easily.
To be certified, you must pass two days worth of tests -- one day of essay questions and one day of hands-on appraisals and oral exams. Failure rate is in the neighborhood of 80 percent.
You must have a thorough knowledge of fabrics -- in particular their history -- what kinds of patterns and prints were manufactured when and where. And you must have a keen eye and an appreciation of detail.
"When I went to take my test they handed me a quilt made of all 1800s fabric pieces. But in the middle of it they had a single print made in 1913. I caught that one but missed some binding from the 1950s. I passed the first time I took the test, but it was definitely the toughest test I have ever taken," says Hill.
Since getting her certification in 2004, Hill has appraised quilts for museums, private collectors and at quilt shows around the country.
On Saturday, Oct. 13, at the Fort Verde Days Quilt Show, Hill offers her services to anyone wishing to insure a family heirloom, donate a quilt to a worthy cause or gift it to someone else, or anyone simply wanting to know what their grandmother's quilt is really worth.
A cyclical market
Like every other market, the value of quilts rises and falls over time.
"Quilts were really big in the 1990s. Today they are going through a low spot," says Hill. "But although antique quilts may have dropped in value, major award winners and ones made by famous quilters have not. Quality never goes out of style."
One of the forces driving down today's market is baby boomers. It's not that boomers aren't buying quilts; it's that they have flooded the market.
"Quilting was big in the 1930s. Quilt patterns were even printed in the newspapers. Today those quilts from the 1930s are flooding the market. And it's not just because there were so many.
"The ones being sold were probably passed down to baby boomers, who for reasons of their own have decided to sell them. It's keeping the value of a lot of beautiful Depression-era quilts artificially depressed," she says.
However, in spite of the fact your grandmother's quilt is losing value, Hill suggests your mother's quilt may be gaining value
"Quilts from the 1950s are rare because so many mothers were escaping from the house and fewer quilts were made. And a quilt made entirely of polyester fabric from the period could be quite valuable to the right collector," she says.
What to look for
Although there are many factors that determine a quilt's value, the appraisal process begins with its age.
"You really do have to be a fabric history expert to know what you are looking at. You need to know when a fabric was made because a quilt can't be any older than the newest piece of material.
Other factors, although more obvious, still require a trained eye.
"Like real estate, you look at condition. What sort of shape is it in? Older quilts don't have to be in as pristine condition as newer ones. But if it's moth-eaten or tattered it's value is greatly reduced," says Hill.
"You also look for the uniqueness of the pattern. Rarity can put it in a category of its own. And workmanship is big. Do all the points match? Are the squares square? Is it hand-sewn or is it machine sewn?"
Other factors include themes -- like was it made to celebrate the 1876 Centennial of the 1976 Bicentennial -- and whether or not you have any personal documentation of the quilt's origin.
"Provenience adds value. If you have some history to go with the quilt that takes you back to when it was made, it's a big plus," she says.
Appraising your art
Quilts, Hill points out, are no longer something you throw across the bed or, as in Hill's own past, keep under the bed and only bring out when company comes to stay.
They have become works of art.
"Back around the turn of the last century there were quilters delving into art and artists delving into quilts. But it was just an offshoot.
"Quilts as pieces of art were just getting a leg up once again in the 1980s when tone-on-tone fabrics, batik and other products became widely available. That's when quilters became more like artists. We are seeing things out there we have never seen before. It's good for quilting," she says.
It has also made the art of appraisal all the more challenging.
Because Hill's appraisal estimates have legal standing, she does have a small charge.
For the Fort Verde Days Quilt show, verbal appraisals will be $20, written appraisals $40.
Anyone with a quilt they would like appraised is asked to call and make an appointment with quilt show chairperson Jeannette Teets at (928) 567-6891.
Appraisals will be made on half-hour intervals from 10 a.m. to noon, 12:30 p.m. to 2 p.m. and from 3 p.m. to 6 p.m.
From 2 p.m. to 3 p.m., Hill will give a free lecture entitled "What's in your quilt."
The show will be held in the Camp Verde Community Center on the corner of Main and Hollamon streets on Friday, Oct. 12, from 3 to 9 p.m., Saturday Oct. 13 from 9 a.m. to 6 p.m. and Sunday Oct. 14 from 9 a.m. to 4 p.m. At last count, 169 quilts will be on display.
More like this story