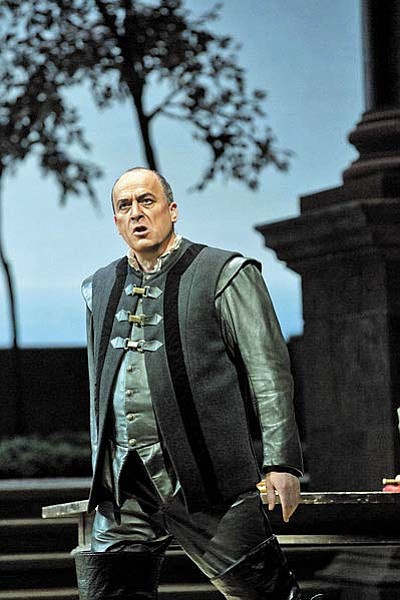 Originally Published: October 22, 2012 9:05 a.m.
Verdi's Shakespearean masterpiece Otello is coming to Sedona by way of The Metropolitan Opera's magnificent series: The Met: Live in HD 10 a.m. Saturday, Oct. 27, presented at the Sedona Performing Arts Center, 995 Upper Red Rock.
Giuseppe Fortunino Francesco Verdi's masterpiece Otello is back at the Met, starring a "chilling and touching" Johan Botha (Huffington Post) in the title role. Renée Fleming as Desdemona is "sublime" and "knows exactly how to spin the gentle lines of the 'Willow Song' and 'Ave Maria' so that they softly fill the hall" (New York Times). Falk Struckmann is "excellent throughout as Iago...blessed with a luxuriant baritone that commands attention" (Huffington Post). Semyon Bychkov conducts. The Sedona presentation at SPAC is made possible with support from Ann and John Steinbrunner.
CMS executive director Bert Harclerode reflected, "We are pleased to be the premiere northern Arizona presenter of this Emmy- and Peabody Award winning series.
That 'premiere distinction' comes from the installation of the Metropolitan Opera's exacting specifications for the big screen and surround sound. When you combine these features with the beautifully appointed seats and accommodations, pre-opera talks "Curtain Raisers" by noted experts, on-screen super-titles that allow for greater understanding, informative artist-to-artist interviews during intermissions and pauses, gourmet lunches and Sedona's Red Rocks - we believe we've an unbeatable combination, making the Sedona Performing Arts Center "Arizona's Place to See The Met: Live in HD'" said Harclerode.
Act I takes place in Cyprus in the late 15th century. Cypriots watch anxiously from the shore as a fierce storm batters the Venetian fleet sent to defend their island from the invading Turks.
The Moor Otello, a Venetian general and governor of Cyprus, lands his flagship safely in the port and announces the destruction of the Turkish fleet. Iago, Otello's ensign, confers with the wealthy Roderigo, who is in love with Desdemona, a Venetian beauty recently married to Otello. Promising to help him, Iago assures Roderigo that Desdemona will soon tire of her husband.
He reveals his hatred for Otello, who passed him over for advancement, promoting Cassio instead. While the citizens celebrate the governor's victory and his safe return home, Iago proposes a toast. Cassio declines to drink, but Iago argues he cannot refuse to salute Otello's new wife. Cassio consents and grows tipsy as Iago provokes Roderigo to get into a fight with Cassio.
Montano, the former governor, tries to separate the two, but Cassio attacks him as well. Otello appears from the castle to restore order, furious about his soldiers' behavior.
When he sees Desdemona disturbed by the commotion, he takes away Cassio's recent promotion and commands everyone to leave. Alone, the lovers recall their courtship and assure each other of their love.
Act II Iago advises Cassio to present his case to Desdemona. He argues that her influence on the general will certainly get Cassio reinstated.
As soon as Cassio is out of sight, Iago declares his belief that a cruel God created man wicked and that life has no meaning. He watches as Cassio approaches Desdemona in the garden.
When Otello enters, the lieutenant makes casual remarks about Desdemona's fidelity. Enchanted by his wife's beauty, Otello greets her lovingly, but when she brings up the question of Cassio's demotion, he is angered and complains of a headache.
She offers a handkerchief to cool his forehead, but he throws it to the ground. Her attendant Emilia, who is Iago's wife, picks it up. As Desdemona tries to calm Otello, Iago seizes the handkerchief from Emilia.
Otello asks to be alone and everybody leaves, except for Iago, who remains to observe Otello's growing suspicion. To fan the flames, he invents a story of how Cassio spoke of Desdemona in his sleep; he mentions that he saw her handkerchief in Cassio's hand. Exploding with rage and jealousy, Otello swears vengeance, and Iago joins in the oath.
Act III a herald informs Otello of the imminent arrival of Venetian ambassadors. Iago tells the general that soon he will have further proof of his wife and Cassio's betrayal. Desdemona enters, and Otello speaks calmly until she revives the subject of Cassio.
When Otello demands the handkerchief he gave her, she again pleads for Cassio. Unable to control his fury any longer, Otello accuses her of infidelity and dismisses her. Left alone, he suffers a fit of desperation and self-pity, then hides as Iago returns with Cassio.
Iago flashes the handkerchief he stole and leads the conversation with Cassio in such a way that Otello overhears only fragments and incorrectly assumes they are talking about Desdemona. As trumpets announce the dignitaries from Venice, Otello, whose rage continues to grow, vows to kill his wife that very night.
He then greets the ambassador Lodovico, who recalls him to Venice and appoints Cassio to govern Cyprus. Losing control at this news, Otello pushes his wife to the floor, hurling insults. He orders everyone out and collapses in a seizure, while Iago gloats over him.
Act IV brings the opera to a close as Emilia helps Desdemona prepare for bed. Frightened, Desdemona sings of a maiden forsaken by her lover, then says an emotional goodnight to Emilia and recites her prayers.
As soon as she has fallen asleep, Otello enters and wakes Desdemona with a kiss. When Otello starts talking about killing her, she is horrified and protests her innocence, but Otello strangles her. Emilia knocks with news that Cassio has killed Roderigo.
Shocked to find the dying Desdemona she summons help. Iago's plot is finally revealed and Otello realizes what he has done. After reflecting on his past glory he pulls out a dagger and stabs himself, dying with a final kiss for his wife.
A unique feature of the Sedona series is the pre-opera "Curtain Raiser" presented from 8:30-9:25am presented with Edward Ingraham providing insights about the opera. Readers may see Otello previews by visiting www.metoperafamily.org/opera/otello-verdi-tickets.aspx?icamp=otello&iloc=hptab
Tickets, $23 for reserved and $19 for general admission, and Gourmet Opera Box Lunches may be purchased on line www.SedonaMetInHD.org or by calling 928.204.2415. The next Met HD performance is November 10 with British wunderkind Thomas Ades' opera also adapted from Shakespeare, The Tempest.
Chamber Music Sedona's 30th Anniversary Season is made possible with underwriting support from Aspey, Watkins & Diesel, P.L.L.C., Attorneys at Law. Additional support comes from The City of Sedona; Arizona Commission on the Arts with funding from the State of Arizona and the National Endowment for the Arts, the Verde Valley Medical Center, The Margaret T. Morris Foundation and WESTAF.