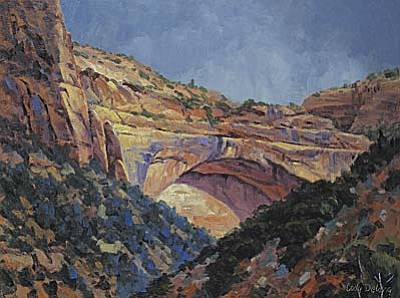 Originally Published: October 29, 2012 9:03 a.m.
Jerome Art Walk on Nov. 3 is the perfect post-Halloween night. If you missed the legendary Halloween costume party in Jerome, just one week later, enjoy a more sedate but equally as entertaining night in this mile high town.
Twenty-six studios and galleries will host openings and happenings throughout the artist colony from 5-8 p.m. From the Old Jerome High School studios to The New State Motor Company with the Patrick Lincoln Gallery, art, music and lively conversation are everywhere.
Enjoy great food in wonderful restaurants and maybe even spend the night at one of the lodging choices. Park your car and take the shuttle or stroll the winding streets on a cool fall night.
For more information, visit www.jeromeartwalk.com or contact Donna at 649-2277.
The Pentimento Gallery at The Wary Buffalo will feature the artwork of Tim Trelease throughout the month of November. Tim's work has been displayed in galleries in New York City and throughout Massachusetts.
Christopher Mull, Fine Art photographer and owner of Zen Mountain Gallery in Jerome, is showcasing a contemporary and contemplative collection of local artists. Nov. 3, Zen Mountain Gallery welcomes Matagi Sorensen to the gallery for Jerome Art Walk presenting a trunk show of his contemporary jewelry designs. Originally from Camp Verde and a member of the Yavapai Apache Nation, Matagi will demonstrate techniques used to create his sophisticated designs Nov. 3 along with Rick Riedel playing guitar.
Jerome Bead Creations will feature many new creations including timely "Day of the Dead" skull earrings in an array of colors by Suzy Mound. Suzann Trout has new pieces in turquoise, carnelian and bronze pearls. Punch and cookies too!
Featured this month at Casa Latina are table runners from the Peruvian Amazon Rain forest. The fabrics are batik-ed and hand embroidered by the Shipibo Indians using plant-based dyes to create symbolic designs of their culture. Local artist Jay Sabol's Desert Creatures take on some unusual personalities with new twists, materials & humor. How about Day of the Dead or Frida Kahlo aprons? Fun to give or wear when entertaining. Cool evenings, music by artist/musician Duane Ewing & munchies at Saturday night Art Walk
Cody DeLong Studio will feature several new paintings just off the easel by Cody. A large new painting of the Grand Canyon, the Vermillion Cliffs, and a new still life as well. And just in time for those holiday gifts, Cody has some shiny new metal prints available.
Live entertainment and refreshments. Cody DeLong Studio - 300 Hull Ave. Jerome, AZ (next to the visitors center) 928-300-4576
"Venturi," a digital installation/assemblage, will take center stage in the Tom Ogburn Contemporary Art Studio for Art Walk in Jerome and throughout November. This large work feeds off of the combined nature of digital creation as computer driven, and questions the nature of our alliance with the silicon grid. Ogburn often describes himself as "a Cyborg/Luddite." Visit the studio in November and see why.
Direct from the Artists at Jerome's Jewelry. Award Winning Artist Rick Hernandez and his son Ricky have created a Unique Collection of Custom Jewelry. Fabulous speciality pieces designed using a wide variety of colorful gemstones such as Arizona Fire Agate, Drusy, Tanzanite and Australian Opal in Sterling Silver and 14K Gold are among the Inspirational Collection. Jerome's Jewelry 114 Jerome Ave.
On the evening of Jerome's Nov. 3 Art Walk, Pura Vida Gallery debuts elegant new designs by established jewelry artists Donna Chambers and Christine Mackellar. Also to be featured are new designs from emerging jewelry artists Annamarie Sabo and Keith Lewis. All these artists handcraft timeless, classic pieces in precious metals, pearls, and semi-precious stones and are sure to be collector's items. The designs of these artists are contemporary, sophisticated masterpieces that are a "must have" for the stylish fine jewelry connoisseur.
Jerome Artists Cooperative Gallery's featured artist through Nov. 20 is Birgitta Lapides. Birgitta is well-known for her mixed media landscape and abstract work on paper and canvas, as well as her jewelry and knitted garments. "I love strong colors, simple forms, which I think adapt very well to the landscapes here in Arizona," says Lapides,"For me it's the creation of a piece that I get completely absorbed in that is the reward in itself." Stop by this wonderful gallery space and meet the artist on October 6th.
"Wandering the Wax Palette" opens on Nov. 3 at Gallery 527 in Jerome. Ardis Harsche unveils new work just completed in her charming Clarkdale studio. Known recently for her bold cave paintings and primal icons, this departure into various styles explores subjects and techniques that inspire this talented artist. Drawing from impressionists like Paul Cezanne, Claude Monet and Paul Gauguin, Ardis uses color and light in a masterful impressionistic style and at times moves toward the abstract.
The disconnected strokes, colored shadows and play of light of this new work are a fascinating departure for the artist. When asked how she selects the subject for her painting, Ardis explains that there is a flow in the process of using wax and the material will inspire her composition as the painting evolves. The show will continue through Dec. 31. Stop by Gallery 527 on November 3rd from 5-8 p.m. to see the new work and spend a pleasant evening filled with art, food, wine and conversation.
For more information, contact Donna at 928-649-2277.
More like this story