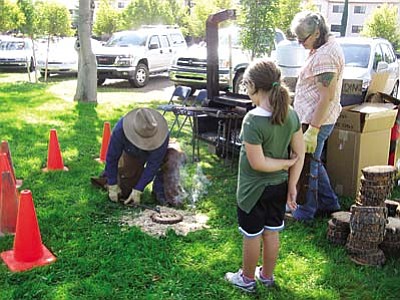 Originally Published: September 27, 2012 8:01 a.m.
Spin a web tonight
Sept. 28
During the Fourth Friday reception at Camp Verde's White Hills Gallery, everyone is invited to join the staff in creating a new community mural involving yarn and spiders to pay tribute to Camp Verde's cult classic, Kingdom of the Spiders.
To create an "urban intervention," each participant will help build a string art installation by adding yarn in geometric shapes that will result into a large mosaic like spider web.  
The spider web mural will be up through this year's annual Kingdom of the Spiders reunion festival, scheduled for Saturday, Oct. 27, located in downtown Camp Verde.
POW/MIA dinner with VFW Auxiliary
Sept. 28
Today, the VFW Ladies Auxiliary 6739 in Camp Verde holds a POW/MIA dinner from 4 to 7 p.m. At 5 p.m. there will be a POW/MIA ceremony with placing of the hats to recognize our prisoners of war and missing in action.
Dinner will be spaghetti, green salad, garlic bread and desert for a $6 donation.
Proceeds will go to free phone time for our service personal overseas. Music will be karaoke by Heidi at 5 p.m.
Rummage Sale at New Beginnings
Sept. 29
A Rummage/Bake/Craft Sale on Saturday from 7 a.m. to 3 p.m. has something for everyone at the New Beginnings Church of the Nazarene, 644 S. Seventh St., Camp Verde. For questions or information call Karen at (928)-567-9489.
Dave Rentz plays Moonpies
Oct. 3
Dave Rentz's musical multi-media show comes to Moonpies Emporium in Camp Verde from 7 to 9 p.m.
Dave will sing, play drums, tell jokes, improvise, and make you move.
There is a $5 cover. Visit www.vyktoria.com or call 204-0537.
Celtic Night at Moonpies
Oct. 5
Friday is Celtic Night at Moonpies Emporium in Camp Verde, with John Ziegler and Vyktoria from 7 to 9 p.m. The voice of Major Lingo joins in a night of songs from the British Isles. Tea and scones, too.
There is a $5 cover.
Visit www.vyktoria.com or call 204-0537.
Silent Auction Items Needed for Ranch House Round-Up
Oct. 6
Donations of silent auction items are needed for the Ranch House Round-Up in Lake Montezuma: Small furniture, antiques, paintings, collectibles, jewelry and other intriguing items are requested to benefit the continued restoration of the Ranch House Restaurant and Beaver Creek Golf Course.
Pick ups are scheduled through Oct. 3 or drop off donations at the pro shop, 4105 Lake Shore Dr from 8 a.m. to 4 p.m.
Please contact Sandy Newell at 9928) 567-4471 or newell4@q.com for further information.
Arizona History
& Hi-Jinx
Oct. 6
"Arizona History & Hi-Jinx," an official Arizona Centennial event, with Mike Peach, is a fun, history-based performance at 1:30 p.m, at Sedona Heritage Museum.
Admission is $6; children under 12 get in free. 
Call (928) 282-7038 for more info.
The Sedona Heritage Museum is located at 735 Jordan Road in Jordan Historical Park.
Call for Artists for Fort Verde Days Art Show
Oct. 8
All art to be judged in the Fort Verde Days Art Show must be delivered to the Camp Verde Town Complex behind the Historical Society on Monday, Oct. 8, between 11 a.m. and 7 p.m.
Entry fees are $5 per entry for adults and $2 per entry for students (first grade through high school).
Artists working in two and three-dimensional fine art, photography and crafts are invited to enter the 2012 Fort Verde Days Art Show to be held Oct. 13 and 14 in rooms 206 and 207 of the Camp Verde Town Complex.
Original artwork in adult and student divisions will be judged for ribbons, cash prizes and this year's best in show winner will receive a solo show opportunity at White Hills Gallery.
In addition, show attendees will have the opportunity to cast ballots for a People's choice award for the adult and student show.
To obtain more information or to pick up an entry form, contact Stephanie Peters at CampVerdeArtsCouncil@gmail.com or at (928) 274-7903. 
Gosar, Corporation Commissioners at Mingus GOP Club
Oct. 9
At its upcoming meeting, the Mingus Mountain Republican Club hear from several important keynote speakers, including Corporation Commissioners Susan Bitter-Smith and Bob Burns, plus Congressman Paul Gosar.
The meeting will be at the VFW Post 7400, Aspen St. in Cottonwood. The doors will open at 11 a.m.
Lunch will be served beginning at 11:15, and the meeting will start promptly at noon. The lunch is available for $11.
Please call Rose Sperry at (928) 639-4753 for information and reservations.
Everyone is welcome.
Get ready for Fort Verde Days
Oct. 12-14
We are looking forward to an exciting weekend for Fort Verde Days, with lots of vendors for you to choose from.
Some crafts and everyday items, plus lots of food and fun are on hand.
There is music, bingo, raffles, Art Show, beer garden, car show, carnival, roller derby exhibition, tractor show, and a huge Quilt Show, something for everyone.
They still need participants for the Parade on Saturday and for the BBQ sauce cook-off on Sunday.
For more information call (928) 300-0179 and please check out the new web site, www.cvpromos.azmine.com.
Verde Conservation District meeting
Oct. 12
The Board of Supervisors of the Verde Natural Resource Conservation District meeting has changed for the month of October.
The board will meet the second Friday of the month, at the Camp Verde Chamber of Commerce, 385 S. Main St., Camp Verde.
All are welcome.
The meeting will be at 9 a.m. Agendas can be viewed at http://www.verde.org or at the Cottonwood Public Library the Thursday before each meeting.
Call (928) 554-0463 for more information or to make special arrangements.
Second Saturday Screenings at Crema
Oct. 13
Sedona Film School's independent film productions are screened at Crema Cafe & Courtyard, 917 N. Main St., Cottonwood, 7-11 p.m. The event is free; donations to the school welcome.
Call (928) 649-5785 or email cremacafe89a@gmail.com.
Quilt appraiser at Fort Verde Days Quilt Show
Oct. 13
Eunice Hill, an American Quilt Society certified appraiser and internationally-known quilter, will be available at the Fort Verde Days Quilt Show on Saturday from 10 a.m. to 6 p.m. for appraisal of quilts. Appraisals will be done every half hour on the stage of the old "downtown" gymnasium, Main St. and Hollamon in Camp Verde. Written appraisals are $40. Verbal appraisals are $20. Fees are payable to Eunice at the time of the appraisal.
At 2:00pm Eunice will give a 45-minute lecture, "What's in your quilt?" that will give clues for dating quilts through fabrics, styles and color trends. Please call Jeannette Teets, quilt show chairperson, at (928) 567-6891 to make your appraisal appointment.
Writers' Workshop in Clarkdale
Oct. 13
Local writers are invited to attend Northern Arizona Word Weavers training. Registration is open 8:45-9 a.m., and the workshops will follow 9-11:40 a.m. Training sessions are normally open only to members, but in October all writers in the area are invited to attend at no charge.
The Northern Arizona chapter of Jerry B. Jenkins Christian Writers Guild Word Weavers is a growing group of active writers of all levels and interests. They meet at the Spirit of Joy Lutheran Church, 330 Scenic Drive, Clarkdale. Email jnkwriters@swiftaz.net.
Geology Hike at Red Rock
Oct. 14
The cooler days of October are perfect to take the opportunity to join an experienced guide leading a hike that focuses on the geology of the area. Meet at 2 p.m. at Red Rock State Park near Sedona. This hike includes the Eagle's Nest Trail for a great view of the Park and the surrounding area. The hike lasts two to two and a half hours and has a 250 feet elevation climb. A knowledgeable guide will explain the rock formations that create the scenic backdrop of Red Rock State Park. Bring water and wear suitable shoes.
Red Rock State Park is at 4050 Lower Red Rock Loop Road. Entrance fee is $10 per vehicle, up to four adults.
Behind the scenes at Verde Canyon Railroad
Oct. 16
Tour the Verde Canyon Railroad depot and John Bell Museum with "Exploring Clarkdale" beginning at 1 p.m. Advance registration is required for this educational field trip sponsored by the Community Services Department of the Town of Clarkdale. To reserve your space for this unique tour call Clark Memorial Library (928) 639-2480 or stop by at 39 N. Ninth Street in the Town Complex. The program is free and limited to 20 participants on a first-come first-served basis.
The depot is located at 300 N. Broadway, Clarkdale.
Verde Valley Republicans meet
Oct. 17
The Verde Valley Republican Women's October meeting will feature speakers Tim Carter, Yavapai County School Superintendent, and Malcolm Barrett Jr., Yavapai County Republican Committee Chairperson, to discuss the propositions on the ballot.
The meeting will be at 11:30 a.m. (doors open at 11 a.m. for meet and greet) at the Los Abrigados Resort located at Highway 179 and Portal Lane in Sedona. Please come, bring a friend, enjoy a delicious lunch for $16 all inclusive and hear about the election in November. Reservations please call or email (928) 284-4248 or sesek@q.com You can also visit our website at http://www.Azfrw.com.
Fit Kids of Arizona hosts 5K Fun Run and 10K Autumn Dash
Nov. 3
In an effort to help children and their families lead healthier and more active lives, Fit Kids of Arizona is sponsoring the third annual Fit Kids 5K Fun Run and 10K Autumn Dash. This year's event is in Cottonwood's Riverfront Park. Walkers and runners of all ages and abilities are encouraged to attend this fun-filled event. To pre-register, visit VirtualRoster.com and select Fit Kids of Arizona 2012.
Check in and day-of registration is 8 – 8:45 a.m.
The 10K begins at 9 a.m.; 5K begins at 9:15 a.m. Awards will be given to the top-three winners in different age and gender groups. T-shirts are provided for all registered participants.
For more information on the Fit Kids of Arizona program, call (928) 214-3537 or visit NAHealth.com/Our Services/FitKidsofArizona; become a friend of Fit Kids of Arizona facebook.com/FitKidsofArizona.