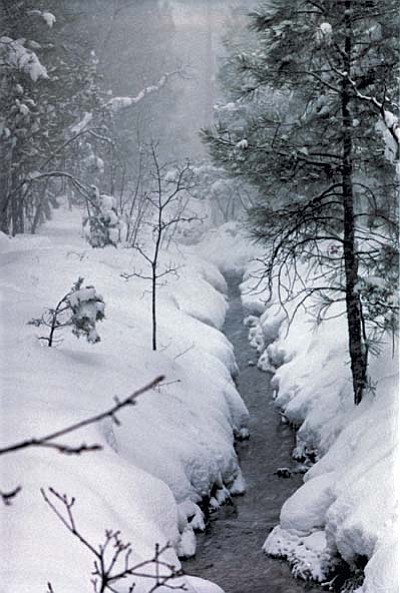 Originally Published: April 23, 2013 12:44 p.m.
Arizonans enjoy visiting other places in Arizona. That's easy to understand because no matter where you live in this state, you can start driving in any direction and be headed toward someplace that is beautiful, interesting and historical.
Some people in the White Mountains of Arizona often visit Prescott, Jerome, Sedona and Flagstaff. The White Mountains in turn draw many people from the Verde Valley.
In those mountains exist an almost endless number of places to hike, take in views and pursue favorite outdoor interests. Serious hikers can spend all day climbing a peak, and backpackers can stay on wilderness trails for days and see only a handful of other humans. After all, the White Mountains are still mostly wilderness.
In such a wilderness where elk worry about mountain lions and bald eagles hunt the shores of mountain lakes, trails are often judged by their length and remoteness. So it's unusual that a short, easy-walking, interpretive trail next to a busy highway becomes a favorite recreational site for both locals and tourists.
But that is exactly the case with the Rim Trail on Hwy 260 between Show Low and Lakeside. The Rim Trail is a one and a half mile loop, part of which is paved for handicapped access. It is mostly flat and easy to walk.
Along the trail are points of information with interpretive descriptions of vegetation and history. Walkers will see and read about manzanita, pinyon pine and shaggy-bark cedar. They will see a rare example of Douglas fir and alligator juniper growing within inches of each other.
If hikers have time, they can learn that ponderosa pine needles used to be steeped with wild honey to cure severe coughs, that juniper trees were used for fence posts and their berries made into gin, and that pinyon nuts have long been an important food source for animals and humans.
History buffs will enjoy walking along a section of the historic Rim Road that runs through the middle of the Rim Trail. This road was built around 1872 by Gen. George Crook from Fort Whipple to Fort Apache. In 1928, Crook's road became the Rim Road and was the main road in the area until it was replaced by Hwy. 260. Sections of the road have been restored and designated as the First Arizona State Historical Trail.
Some visitors to the Rim Trail will be intrigued by the points of information that explain how a fault line through Arizona created the Mogollon Rim. Others will find it interesting that humans have inhabited the area for more than 11,000 years and, that around 1300 A.D., more people lived in the area than are now present.
Almost every visitor should find something of interest from the nature, geology and history available along this short trail. But the truth is these things alone might not make this trail so popular.
Like much of Arizona's high country, what really draws people to this Forest Service trail are the awe-striking views. From several points along the trail, visitors can look out from the Mogollon Rim to the wilderness below. It is a sea of forest with green waves rolling to the edge of sight, and mountain ridges rising then plunging like ocean swells.
Under Arizona's glacial-blue sky, the green wilderness that flows from the rim down across the White Mountain Apache Reservation provides views and photo opportunities that can hold their own with any in Arizona.