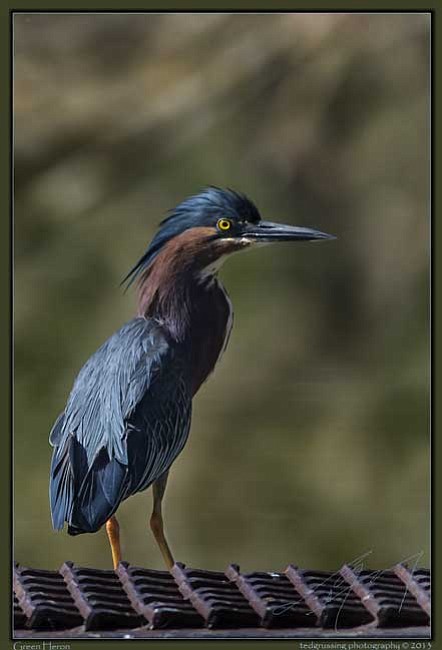 Originally Published: April 25, 2013 4:18 a.m.
... the Green Heron is one of if not the smallest of the heron family coming in around a foot and a half long. They are also one of the few species that use "tools" in their daily life frequently dropping food/bait onto the surface of the water to attract fish which when thus attracted are caught by the Green Heron. I got this shot down at the ponds yesterday and was fortunate to get some shots of him. Combining the small size and their skittish nature it is tough to get close enough to get a useable shot even with the 560mm lens I was using.
A long day today and time to call it a wrap. Corky is sleeping, Q is eating out of one of his new cut crystal bowls and will soon join me in slumber. He still uses his gold plated dish for dry food that friends gave him several years ago, but recently he requested the very high end Wilderness brand of wet food be added to his diet. It has been a very long time since we have used these beautiful crystal ashtrays so Q has requisitioned them. He now has two primary feeding stations and four drinking locations in the house. We are delighted that he permits us two.
Enjoy the day and the beauty that surrounds us...it is always there, just waiting for the television, computers, tablets and smart phones to be turned off. It is not connected electronically to anything and the network never goes down. Rediscover life! Espresso in three hours and the day continues...
Cheers
Ted
The green of all the fields is mine, the stars, the night, the wind at play,
A peaceful heart, while quietly
I go my way
Max Ehrmann
More like this story