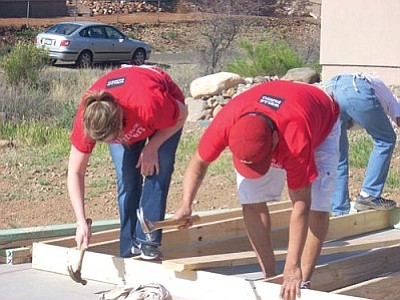 Originally Published: April 27, 2013 2:52 p.m.
Verde Valley residents can become part of Verde Valley Habitat for Humanity's newest build in Cottonwood through May 10.
A house under construction at 863 E. Cherry Hills Way is the 12th house the organization is building for a deserving qualified family, Executive Director Gayle Durkin said.
"The construction is moving along. It's framed and we are in the process of plumbing and electrical." This is the first Habitat house to be built in three years and with drywall being a week or two out, we are inviting local residents to come and sign or leave a message on the framing studs. The signatures and messages will become part of the soul of the house for this family. Habitat is all about community, so what better way to make this a community project?" Durkin said. Although the dry wall will cover the writing, Derrick, Karla and their daughter will know it's there. Since breaking ground, staff, volunteers and the Bonners have given many hours to excavate, pour the foundation, install utilities and raise the wall framing. "Part of the agreement with the Bonners is they work on the home - sweat equity - along with satisfying all of the qualifications necessary to be a Habitat family," Durkin said.
"A family must meet income requirements, prove a need for housing, qualify for a mortgage, prove the ability to pay and provide several types of documentation. We don't give people these houses. The families do their part. We give them the opportunity to own their own home," said Durkin. "We work to build decent, affordable homes by giving them a hand up, not a handout."
Habitat for Humanity International which was founded in 1976, works hard to create the dream of home ownership one house at a time. Volunteers have built more the 500,000 homes around the world. "I would love to see our affiliate build three to four homes a year. It takes funding. Our ReStore supports much of our building, however, we still need major donors to help to make our goal of building more homes happen" said Durkin.
Individuals and businesses can help by contributions, becoming a sponsor, volunteering, shopping or donating to the ReStore at 737 S. Main St. in Cottonwood.
Verde Valley Habitat for Humanity is an ecumenical Christian organization dedicated to eliminating poverty housing in the Verde Valley since 1995 having built 11 homes and continuing to serve families in need. To help or become involved, call 928-649-6788 or visit the ReStore.
More like this story