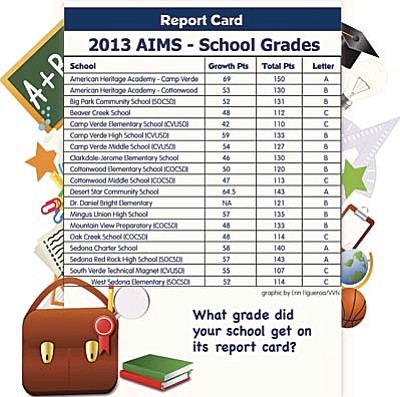 Originally Published: August 3, 2013 1:54 p.m.
Cottonwood and Clarkdale school districts maintained their B grades from the Arizona Department of Education.
The updated scores released Thursday take into account improvement on AIMS and the percentage of students who pass the test, among other academic outcomes. 
Cottonwood-Oak Creek schools that went down in grade had a general idea why, said Superintendent Barb U'Ren. Mountain View Prepatory was seven points from achieving an A grade this year, likely because its student population more than doubled. 
"This surge of students brings with it success and challenges as they acclimate to a new school with new expectations," she said in an email.
Cottonwood Middle School received a C and is working to determine why its grade fell, U'Ren said. 
The district's long-term project is to align Common Core standards, implemented for the first time last year, with the new PARCC assessment that will replace AIMS in 2015. 
"With this transition, we know there will be misalignment with what is being taught and how students are currently being assessed," she said. 
Clarkdale-Jerome School Superintendent Kathleen Fleenor is also anticipating the adjustment period that will follow implementation of the new assessment, which students will take on computers. 
"The paper and pencil days are gone," Fleenor said. "Because it's going to be such a switch, the common thought is that (the ADE) will probably give districts and schools some wiggle room for the next couple of years."
Mingus Union High School Principal Jennifer Chilton said teachers will enter phase two of Common Core training this year, which focuses on professional development. For the past three years, teachers have been trained in best practices through the Teach for Success program.
"These are the higher standards aimed at PARCC standards for next year," she said. "We'll be supporting and repeating some of that training."
The district spent last year focusing on improving writing scores. School-wide, students would drop everything and write an essay based on a prompt modeled after what might actually appear on AIMS.
Teachers would gather as a group to score the essays using the AIMS grading rubric. 
"What I've seen for the last few years is students understand why they're doing that and they appreciate it," Chilton said. "We package that to look just like the writing test they'll receive so that we reduce student anxiety. By the time they get to the real writing test, they've had lots of rehearsal."
Superintendent Paul Tighe said teacher coaching and online and alternative academies have supported student success.
"Our goal is to be an 'A' school district and with this year's increase in points, we are only five points shy of an 'A,'" Tighe said in an email.
The Arizona Department of Education released school performance grades Thursday.
Camp Verde Unified School District held onto its B, with improved scores at each of its schools. Superintendent Amber Lee said while she sees her district as an A, she's happy with the grade. 
Each year, teachers analyze students' AIMS scores to determine which area to focus on for improvement.
"Last year, our area of focus was math," Lee said. "Since the scores just came out, we're still looking at the information and what our goal will be for next year."
She will present the goal for the new year at Camp Verde's Aug. 13 school board meeting. 
"Our focus is student progress," she said. "We're constantly looking for ways to improve and help students learn in all areas."
The Beaver Creek School District received a C in this year's report. Superintendent Karin Ward did not respond to interview requests.