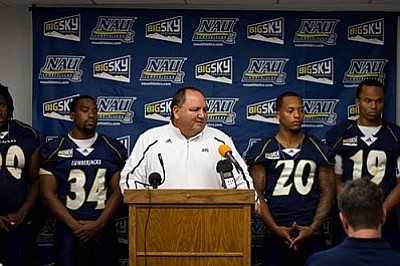 Originally Published: August 13, 2013 2:08 p.m.
The Northern Arizona University (NAU) football team held its annual media day on Aug. 11, with head coach Jerome Souers and select members of the team on hand to talk about the upcoming season.
"What I think was most notable was the hunger of our program leaving the year without getting a championship," Souers said. "It was frustrating at the end, and it certainly wasn't the way we wanted to end it."
The Lumberjacks are hoping to build on an 8-3 2012 campaign, their most successful season since 2003 when NAU ended the season 9-4.
"I think that it's very similar," Souers said. "That year we weren't sure who the quarterback was going to be going into 2003, in fact we went into, toward the end of camp, before Jason (Murrietta) was named that guy (starting quarterback). Very similar. We had a lot of offensive linemen, experienced receivers and Roger Robinson was a very special back. You'll see the genetic makeup of us is very similar to the DNA of that year."
2012 marked many milestones for the Lumberjacks. As stated above, the team notched the most wins since 2003, NAU also beat the University of Montana for the first time in 15 years and earned its first win against an Football Bowl Subdivision (FBS) school since 1987 (a 17-14 win over the University of Nevada Las Vegas).
"We bring back a lot of young men that were an important part of last years success. We went 8-3, we were very competitive and I thought we did very well with regards to breaking down some of the barriers that have haunted us in years past. Beating an FBS team, certainly beating the University of Montana, were highlights of last year."
Souers drew many parallels between the 2003 and 2013 teams, including the strength in the secondary and the quarterback competition. But the competition is different in that 2003's quarterback, Jason Murrietta, entered the program as a first-year freshman, while the two athletes competing in 2013's competition, sophomore Kyren Poe and junior Chase Cartwright, both have experience under center. In 2012, Poe and Cartwright went a combined 45-90, and Cartwright was quarterback when NAU defeated UNLV.
Cartwright missed spring practices after suffering a leg injury in the third game of the season against Fort Lewis, and Poe took over until senior Cary Grossart was healthy. Despite the competition going into the start of fall practice, both quarterbacks have used the opportunity to grow and learn from each other.
"There's no hard feelings (in the quarterback competition)," Cartwright said. "Our coaches made it clear last spring that the best player to play in the program would (win the starting job)."
With regards to his leg, Cartwright feels "great. I'm 100 percent cleared. I'm just thankful and blessed to be back on the football field."
While the quarterback competition is heating up; there is no question who the No. 1 running back is going into 2013. Senior Zach Bauman is entering the final season of his prolific career as a Lumberjack. Bauman has rushed for 3,676 yards in his three years at NAU, and is 118 yards away from passing Marcus King as No. 1 on the all-time rushing yards list. This year, Bauman was also named to the Walter Payton Award watch list, his second consecutive year. All of the accolades may cause some student-athletes to lose focus, but Bauman, while honored, said that the team's success is more important than any personal award.
"As far as being the face of the team, it's a great thing, it's a blessing to be the face of NAU football, but I'm still just a regular guy, just like everybody else," Bauman said. "My mom, ever since I touched a football, (told me) to stay humble, so that's something I try to do. I'm a team guy, that's the main thing."
Bauman was the main offensive weapon for the Lumberjacks in 2012, but through the season, the offense developed and going into 2013, the weight on Bauman's shoulders will be lifted with help from the receivers and tight ends. Wide receivers Dejzon Walker, Ify Umodu and Nick Cole, along with tight end R.J. Rickert have developed into deep threats, which will take pressure off of Bauman when defenses zero in on him. Those four accounted for 1,607 receiving yards and 15 touchdowns.
To compliment the rising offense for NAU is a stout defense that returned a slew of starters, including senior Anders Battle, who led the team with 64 tackles. The cornerback will be joined by fellow seniors, safety Luck Dozier and defensive lineman Tim Wilkinson, as part of one of the deepest defense that Souers has had in years.
"I would say depth. You have our starters and your backups, but I would say the rotation that we have, anyone can start," Wilkinson said. "And on the defensive line, that's what you want. You don't want your biggest guys on defense out there for 100 plays a game, so we're getting ... everybody plays hard, 100 percent every play, and then when you get tired, our coaches throw a new four in there. We play with our hair on fire and that's what gets it done."
Dozier capped off his junior season with 57 tackles and four interceptions. Wilkinson totaled 36 tackled, including 5.5 sacks.
"Right now, I'm slowly starting to feel good about this season," Dozier said. "I'm not the guy that likes to look ahead at things, so I'm just the guy that likes to live in the moment, live in the present, and guys are starting to learn everyday as camp progresses, and that's all I can ask for, as of right now. As long as guys are getting better everyday, I'm comfortable with that. About the upcoming season, as long as we're doing what we need to be doing now, everything else is going to take care of itself."
As NAU football turned around the stigma surrounding the team, fans filled the Skydome, which added to the game day environment.
"From a players stand point, its great to have the Dome packed," Bauman said. "You really get up for games like that. When there's not too many fans in here, you may come out, be kind of lackadaisical. When the Dome is packed, it doesn't matter who you're playing, you get up for the game."
Wilkinson added about the effect a packed house has on the players.
"There's nothing like it. You come out here, get goose bumps, see all the people."
The Lumberjacks have their eyes set on the Football Championship Subdivision National Championship.
"We had a pretty decent season last year, that we're not even satisfied with," Dozier said.
What will be a satisfying season for Dozier and the Lumberjacks?
"A national championship," the safety said. "Nothing more, nothing less. Our coaches really want a Big Sky championship, but they also said the standard for us ids to be a national championship team, so that would be the perfect season and that is the only standard we are going to hold it at. We're not going to hold it at anything less."
NAU kicks off its 2013 season at the University of Arizona on Aug. 30, and opens the Skydome against South Dakota on Sept. 21.
More like this story