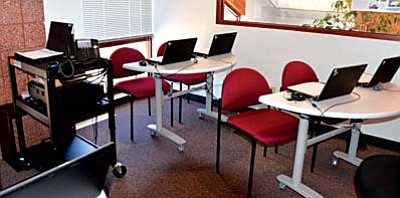 Originally Published: August 17, 2013 3:24 p.m.
Two grants worth $38,000 will give the Cottonwood Library a new dimension of sight and sound for both kids and adults.
It all started after Librarian Vanessa Ward attended an Arizona State Library's "Excelling Grantwriters Group" workshop. Group members participated in a virtual training classes leading to the preparation of an LSTA grant application with preference given to those applicants.
The program is supported with funds granted by the Arizona State Library Archives and Public Records Agency, a division of the Arizona Secretary of State, under the Library Services and Technology Act (LTSA), which is administered by the Institute of Museum and Library Services.
The result is actually two grants for the Cottonwood Library. One grant, prepared by Ward, is directed at adults. The second grant, filed by Liz Guerra, is aimed at kids. Both grants provide new skills and library features to explore new worlds.
A computer room in the "The Hideway" on the second floor of the Children's Section is now outfitted with laptop computers, funded by the grants. Another room has become a studio for filming animation, equipped with a green screen, like that used in high-tech animation studios in Hollywood. Cameras, both still and movie cameras, for use by students, are also available, thanks to the grant.
The library will host two-hour workshops for kids to learn the skills, both after school and on Saturdays, to learn Video Game Development, by Yavapai College instructors. There is digital photography, animation, and Lego robot workshops. Children will be able to create their own animated stories. The grant also provides Lego Mind Storm robots for programming.
The adult workshops are just as impressive. GIMP workshops are available. GIMP is an open source (meaning free) digital imagery tool like the pricy Photoshop. But, you can download GIMP free to your own computer.
The workshop is taught by an OLLI (Osher Life Long Institute) instructor. There are also computer workshops for Social Media for Small Business, Learning Spanish (both for adults and for youth), English as a Second Language, Computer basics and eBook classes and How to planYour Own Trip.
There is also a station to test drive an ereader with a variety of sample ereaders you can try out on your own and see what you want to own.
Workshops begin in September and run through April 2014. Check out the schedule at www.ctwpl.info or pick up a schedule at the library then register at the library's reference desk
Secretary of State Ken Bennett, who oversees the Arizona State Library, Archives and Public Records Agency will be on hand at the Cottonwood Library, Sept. 10 at 2:30 p.m., to formally present the grant.
More like this story