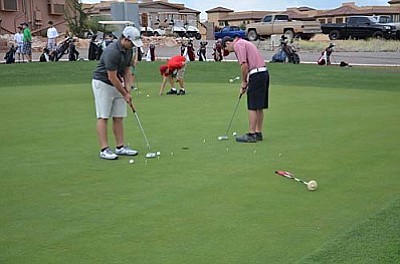 Originally Published: August 20, 2013 3:25 p.m.
It has been four years since the last time the Mingus Union golf team was represented at the state tournament, and head coach Craig Mai is hoping to change that in 2013 with his roster.
"(Our) four seniors, they have all matured, now they're ready to go," Mai said. "I'm looking for all four of them to have a big impact on our season, and our team, this year. I see we have a lot of experience at the upper-end, so I'm cautiously optimistic."
Leading the way will be returning state tournament participant, senior Gary Baker. Baker was the only Marauder to qualify for state in 2012, and finished No. 57 after shooting a 159 over the two-day tournament, 19 shots off of first place.
"It was a pretty good experience," Baker said. "I didn't play very well, so what motivates me for this year is to go back and do a little bit better, try to maybe crack the top-10, but that's mainly the motivation, to get better and go back and redeem myself."
Mai believes that Ryan Sullivan, one of Baker's fellow seniors, would have made the trip to the Silverbell Golf Course with Baker if it was not for an untimely injury that happened just before the beginning of season.
"I got hurt a week before our first match last year, so that was really tough," Sullivan said.
As Baker and Sullivan settle into the upcoming season and prepare for their first tournament, they are also trying to improve the team and be leaders, something that was lacking from the 2012 seniors.
"Trying to do the best we can to be good leaders for the younger guys and doing our best to perform at a high level," Baker said.
Sullivan added.
"I think last year, the seniors, there just wasn't any leadership. They didn't take it seriously," Sullivan said. They could have been a contribution to the team, but it wasn't what they were passionate about and they didn't put the effort into it ... we're trying to lead by example."
Mai has seen the leadership from not only Sullivan and Baker, but form his other two seniors as well, as all four of the upper classmen help bring the younger kids along I the game of golf.
"I see Gary and Ryan doing an excellent job, and then our other two seniors, Anthony Valenzuela and Austin Moffitt, are great kids, work hard, really good role models for our younger kids on how to prepare, how to practice and most importantly, how to behave," Mai said.
Following the conclusion of the 2012 season, Baker, and other older members of the team, took an extended break from the game, as a way to clear their heads and work on the mental game.
"I took a long break from golf, and I think that improved my mental state of mind, on golf," Baker said. "It's helped me coming back out, being able to let go of bad shots and being able to focus on one shot at a time, instead of thinking about my total score, or whatever. It's helped me with my mental game. "
While Mai has to wait for an actual tournament to see if that really did work, he has noticed an improvement during practice.
"It's one thing when it's practice, and it's another when it's actually a competition," Mai said.
Because many of his older student-athletes took longer breaks following the season, Mai did not have the turn out he had expected for summer practices. But when the team got back together and started preparing for the season, he could tell that many of his players did play and improve over the summer.
"I had a bunch of my younger kids out here getting themselves introduced to the game, working a lot, so that was nice, that will help us out in the future," Mai said. "Our older kids, a couple of them work out here (at Verde Santa Fe), so they're on the golf course quite a bit, but the other ones took a break this summer. I would have liked to have more involvement, but from what I'm seeing already, they're fresh, they're excited, they're energetic and now they're working hard on their game. I'm confident for where we're at."
Sullivan was another golfer that took a break over the summer, and just recently picked up his clubs again, but said he is feeling better going into this season.
"I only got back into it about 2-3 weeks before the season started up here again, but I feel like I have made quite a bit of improvement form last year," Sullivan said. "I'm hitting the ball a lot further, making more puts and my short games getting a lot better."
Junior Orlando Machado joined the golf team over the summer and impressed Mai with his dedication learning the game. Machado took advantage of, "both Verde Santa Fe and Pine Shadows, our to local courses, (who) are very supportive of our program," according to Mai. The junior progressed over the summer, and according to Mai, should be a contributing member right away.
"Orlando Machado, he didn't play last year, but he played a lot over the summer," Mai said. "He's going to be a good golfer for us, so I'm really excited to have him as an addition to our club."
The Marauders kick their season off at home this year, one of the few changes to the schedule. The golfers schedule stays the same year-to-year, because once coaches get set in a time and place to hold a tournament; they keep doing that every year, and different golf courses shut down to tend to their course at different times of the year. While this does not add much diversity to the schedule, it does offer golfers a chance to become more familiar with the courses.
"At times, you could maybe hope for a little bit more diversity, maybe just a little bit of a change, but at the same time, you get to know the courses that you're playing, so it gives you an advantage and it helps you do well," Baker said. "I mean, you should be able to do well, even if you've never seen the course before, but it also gives a little bit of an advantage on the course, to have played it so many times before."
Even though the schedule is the same for the Marauders, that does not mean they do not have a favorite tournament they enjoy playing. The Aguila Invitational is one that everyone on the team is looking forward to. The Phoenix course will host the state tournament this year, giving the team another chance to play that course, which Mai likes.
"Ryan, Gary, A.J., they've played that course a couple times, so I'm really looking forward to that tournament for an opportunity to say, 'hey, not only is this a big tournament for us, we get to see some of the best schools in the state, but this is, if we qualify, this is where we're coming back to for our state tournament,'" Mai said. "I'm really looking forward to that ... the fact that state's going to be hosted right back there at the end of the season. SO, get an opportunity to get a little more experience, especially, not only for a practice round, but for competition there."
For the team, it is a chance to grow more together and have fun.
"I'm really looking forward to the Aguila tournament, the overnight tournament," Sullivan said. "It's a lot of fun to go down there, we're all really close on the team and you get to spend a few days hanging out with each other, going out playing on a nice course and doing well. That's one I'm definitely looking forward to, and then, of course, the Johnny U tournament, the home event, the last of the year, we did well in that last year."
For Baker and Sullivan, their goals are to make it to state. Baker hopes to improve on 2012's play and score in the top-10.
"I don't think there's any doubt in either of our (Sullivan and Baker) minds that we'll be there, individually, but we would really like to take the entire team down there this year and represent Mingus," Sullivan said.
The two seniors, along with Mai, are hoping that they can help the Marauders make it to the state tournament, as a team, which is the ultimate goal for everyone.
"I think it would be a huge disappointment if we don't make it as a team," Mai said. "Gary should be going back as an individual, hopefully we can get Ryan as an individual, but most importantly, I want to get us, as a team, into the state tournament this year ... it's time for us to get back there and be competitive as a team, at the team level."
The Marauders begin their season on Aug. 29, when the team hosts Bradshaw Mountain, Flagstaff and Coconino High Schools at the Verde Santa Fe golf course at 3 p.m.
It works out perfect," Mai said. "We have our first match, at home, next Thursday. It works out perfect. I think that's going to give us ... it's going to be a nice, good start to the season."