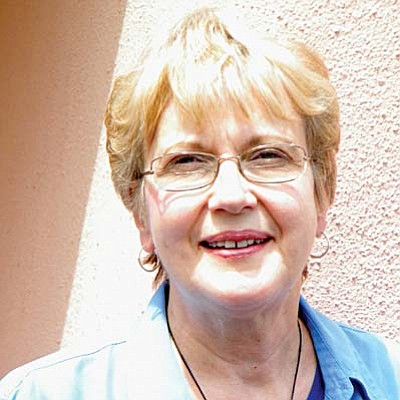 Originally Published: August 29, 2013 2:28 p.m.
COTTONWOOD -- The Verde Valley Presbyterian Church has a permanent pastor. The position may be new but the face is not. Pastor Naomi Barcanic has preached a number of times over the years from the pulpit of the Presbyterian Church on Hombre Drive in Cottonwood. She replaces Pastor Bobbye Clark, who retired in April.
Naomi Barcanic received her Masters of Divinity and was ordained in 1997 and served as one of four pastors in a very large congregation in Arlington Heights, Il She says she is much more comfortable in a small church where you not only know the names, but can learn who the people are.
Naomi first came to Arizona in 2003 and offered to preach in the Presbyterian, Lutheran, Methodist, Reformed Church and Episcopal Churches. A joint agreement among the denominations allows share pulpits and alters.
She wears a T-shirt that reads, "Jesus is my Mentor"
"I don't have all the answers theologically, but if you follow Jesus, he will guide you."
"We talk about Jesus as our savior, but I think we forgot about the human Jesus who taught us how to live. How to be, how to welcome people and be more inclusive rather than exclusive and that's to me, that is what I preach."
"I am very happy to serve as pastor at Verde Valley Presbyterian Church. I have preached here several times over the years, but never imagined becoming the pastor. God is certainly full of surprises."
"It is sad to me that so many people these days do not have a church home. People criticize the church for not being perfect, and some of those criticisms are justified. I pray, however, that people may be courageous enough to look beyond those human imperfections and dig deeper into their faith traditions to find the God in whom they can be firmly centered.
"Being 'spiritual but not religious' seems rather limited to me. While communicating spiritually with God (vertically) is wonderful, how does one learn to live alongside those around them (horizontally)? And, how does one learn about what God desires? I believe people can find these answers as they become part of a community of faith where God is present, reminding us of the kind of God we worship and empowering us to live our lives well in this world."
More like this story