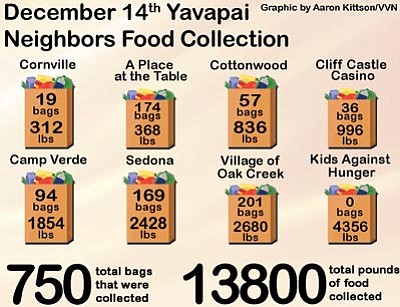 Originally Published: December 26, 2013 12:04 p.m.
Not only is our Sedona/Village/Big Park Food Neighbors Project GROWING by leaps and bounds in this exciting Community effort to feed our local hungry, but as of Dec. 14, the Project has expanded to Cottonwood ... and soon, hopefully, to Camp Verde.
More and more volunteers have stepped up to do their part in this easy and effective way of keeping our community's Food Banks perpetually filled and Hunger Programs, like Meals on Wheels, from struggling ... but there is much more need here and in our Valley ... and a loud calling for more volunteers too, especially Neighborhood Coordinators. "What's that and who are they?" you say.
Well, as has been described in publicity about the Food Neighbors Project, there are two types of Volunteers:
1) Donors generously offer to pack a bright green Project bag with healthy non-perishable food items, which will be picked-up on their doorstep every-other month on a designated Collection Day (with reminders) by their Neighborhood Coordinator.
2) Neighborhood Coordinators commit to organizing a small group of friends in their community, at their church or office or even Book Club buddies, forming their own Food Project "Neighborhood."
They will then pick up their Donors' green bags, delivering them to a designated Collection Site in their own town on Collection Day ... always the second Saturday of every-other month. That's all there is to it!
The recent Food Neighbors Project Collection was held on December 14, 2013, exceeding all expectations. With Weber's IGA and Alliance Bank kicking off local business support of the program, additional businesses and community organizations throughout the Verde Valley are joining the program through donations and green bag sponsorships. They all deserve enormous thanks!
The alarming statistics of Child Hunger in our own backyard are, to a large part, what triggered the Food Neighbors Project in this region. Special efforts to help began with the first Collection held in August 2013 with a Youth Pantry established at the Sedona YMCA, designed to feed hungry kids in after-school programs.
The October Collection created a remarkable Village/Big Park collaboration between the Verde Valley School and Big Park Elementary School...with the formation of a local Youth Pantry held on the VV Campus...with volunteer students packing food-filled backpacks for identified "food-insecure" kids to take home on weekends...kids helping kids.
For those wishing to contribute food donations for growing, healthier kids, certain guidelines are encouraged: 1) No sugar added, when available, or 100% juice-sweetened; 2) whole grain; 3) higher protein; 4) all natural or no artificial ingredients; and 5) individual servings and lighter packaging options whenever possible. Many thanks go to the many volunteers who have been contributing so generously and thoughtfully, as there has been a noticeable improvement in the quality of food received and also in the number of individual-serving, child-friendly foods.
The next Yavapai Food Neighbors Project Collection will be held on Saturday, February 8, 2014...growing to three and, hopefully, four different Community Collection sites, including Cottonwood and Camp Verde! Please help this extraordinary, community-building effort continue to grow and provide food for Emergency Food Providers here and throughout the Verde Valley.  
Do you know someone with the desire to serve and a little extra time on their hands?  Neighborhood Coordinators are especially needed in all communities to support the amazing growth of this project!  
Just go to www.yavapaifoodneighborsproject.org for easy sign-up, and someone will be in touch with you soon. Questions???? Call Gail Simpson at 284-9720.
_________________________________________________________________________________
VILLAGE OF OAK CREEK COLLECTION
(Including Village of Oak Creek, Pine Valley, and all VOC Communities)
Emergency Food Providers receiving food include:
Sedona Community Center
St. Vincent DePaul Food Pantry - Sedona
Verde Valley School Youth Pantry providing Big Park Weekend Backpacks for Kids
SEDONA YMCA COLLECTION
(Including West Sedona, Uptown Sedona, and Communities off Hwy179 between Sedona & Bell Rock)
Emergency Food Providers receiving food include:
Sedona Community Food Bank
West Sedona School Weekend Backpack for Kids
Sedona YMCA Youth Pantry
***  St. Andrews Hot Meals 
***  Sedona Meals on Wheels
***  Sedona Community Center
COTTONWOOD COLLECTION  (New Site)
(Including Cottonwood, Camp Verde, Cornville, Rimrock, and Clarkdale)
Emergency Food Providers receiving food include:
Adventist Community Services Food Pantry - Camp Verde
Rising Hope Food Pantry
***  Verde Valley Senior Center
***  Bread of Life - Camp Verde 
***  Camp Verde Senior Center
***  Beaver Creek Food Pantry
*** NOTE: Kids Against Hunger donated nearly 5,000 of food to the Yavapai Food Neighbors
Collection to distribute to Verde Valley emergency food providers.
More like this story