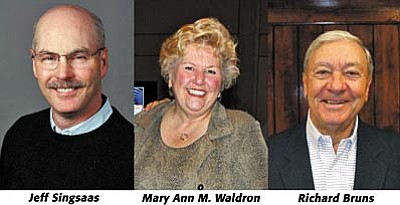 Originally Published: February 26, 2013 8:27 a.m.
Jeff Singsaas
We (wife Val and son Kevin – 15 years old) moved to the Village from Seattle last September after I retired from Microsoft. Our decision to live in Sedona was driven by the natural beauty here, Kev's opportunity to attend Verde Valley School, and substantially less rain.
Meeting new friends and discovering Arizona has been a lot of fun and we are thrilled to be here.
Community involvement has always been a priority for me. When I read that there would be vacancies on the VOCA board, it looked like a great opportunity to contribute and I ask your consideration. Here is a bit about my background:
I mostly grew up in Michigan and Minnesota and finished high school in a suburb south of Seattle. I earned a BA from Central Washington University and a MS from the University of Southern California in Systems Management.
My early career in aerospace was at The Boeing Company focused in finance and planning. I then moved on to large scale project planning and management.
I spent most of my time working with the Department of Defense on various technology implementation projects. The work took us on the road for many years including relocations to Hawaii and California. We returned to Seattle in 1991 when our daughter Christine was born while I took on more senior leadership roles at Boeing headquarters.
In 1995, I was recruited into Microsoft to help them expand into undeveloped markets in Eastern Europe and Asia. For the European assignment, we relocated to Dublin, Ireland for easier access to the Eastern bloc. Beyond that, there were many adventures in Asia including structuring business deals in China.
That certainly expanded my assumptions about the impact of culture and relationship on business. Ultimately, I became a Partner at Microsoft helping drive marketing – especially event marketing. For many years, I produced Microsoft's biggest events worldwide. I also had responsibility for Microsoft Studios, one of the largest video production and internet broadcast facilities in the world. My annual budgets ranged from $300-500M with an expanded staff of hundreds of employees and suppliers. Today, I offer consulting services to associations and industry organizations throughout the United States.
My recent board and volunteer work includes Starwood Hotel Corp. (Advisory) 2003-2005, City of Toronto (Post SARS marketing) 2004-2006, Meeting Professionals International (Senior Professionals) 2008-2010, Hawaii Convention Center (Advisor to SMG Corp) 2004-2008, City of New Orleans (Post-Katrina Convention Recovery) 2006, Seattle Convention & Visitors Bureau 2004-2011 (Exec Committee 2009-2011), River Run Homeowner Association – President 2000-2012
I'm committed. I do hope to be able to bring deep experience and capability in service to my neighbors here in the Village of Oak Creek. I also hope my golf game won't be a drawback!
Mary Ann
M. Waldron
I ask for your vote and in return commit my energy, business acumen and enthusiasm to VOCA residents and homeowners.
I believe the VOCA Board must expand communications, and be both more inviting and receptive to member input.
The Board has a duty to protect the investment we each have in our homes through prudent use of funds and professional management of our assets.
A VOCA member since 1993, my professional career has been distinguished in both marketing and management.
I've held leadership roles with major healthcare technology vendors including GE.
Having been Executive Vice President of a public diagnostic imaging company, I understand fiscal responsibility and accountability. My educational credentials include MBA from the University of Illinois.
In 2005 I founded Traction Business Development, a consultancy assisting clients throughout the US with their go-to-market strategy and business plan execution.
I've regularly been invited to speak and publish about the results we achieve. I take a thoughtful approach to formulating viable action plans in evolving environments, such as we have in VOCA.
While living in Illinois and Maryland, I served as Treasurer, Chair of Architectural Review Committee, and President of the home owners' associations.
Other Board positions I've held were for the Champaign County Humane Society and Baltimore Symphony Associates. I am currently a member of VOCA's Activities Committee and can offer more to our organization as a Board member. Thank you for your consideration.
Richard Bruns
Sandy and I have been married since 1962. We have three sons, Steven, Matthew and Bryan, and ten grandsons, Michael, Christopher, Shawn, Hayden, Joshua, Jack, Cameron, Payton, Devin and Logan.
I have a degree from Marycrest College in Accounting and a MBA degree from the University of Illinois.
I took the CPA exam and received my certification in 1989, and at that time I started my practice as a Certified Public Accountant.
Prior to starting the CPA firm I was comptroller of a small supermarket chain for 23 years.
My son Matthew joined the firm in 1995 as a CPA and in 2002 my son Bryan also joined the firm as a CPA. I retired in 2009 leaving the firm to Matthew and Bryan.
Our family is originally from Illinois and we have lived there our entire life. In the early 90's Sandy and I came to Arizona for a vacation and visited the Grand Canyon.
During our vacation we stayed in Sedona and fell in love with the red rocks and the area. We came back the following three years and decided this was the area we really like and wanted some day to retire.
We purchased a lot in 1995, built our home in 1999 and used it as our second home. We have loved the gracious small town feeling of the village and have made wonderful friends through Oakcreek Country Club.
While living in Illinois I have always been involved in the community through the Lions Club, School Board Member, EDC chairman for the village and advisory committee for the high school.
The New Lenox Chamber of Commerce honored me as 2005 citizen of the year.
My wife Sandy and I really enjoy the community and would like to contribute.
More like this story