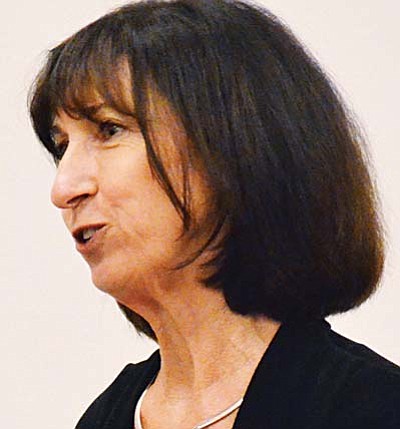 Originally Published: January 18, 2013 9:19 a.m.
The Cottonwood-Oak Creek School Board, with two new members, discussed whether to continue looking at increasing shared services with Mingus Union High School. The Tuesday meeting was the first since JoAnne Cook and Jason Little replaced former board president Randy Garrison and board member Eric Wyles.
It was also the board's first meeting since Dec. 17, when it received the results of the Warner Group's feasibility study on shared services with MUHS. That meeting ended with both school boards committing to study and consider the results of the Warner study. The members of both boards were urged at the December meeting by Yavapai County Superintendent Tim Carter to go over the study report in detail and apply those results to their own districts.
Part of what the members were seeking to determine was whether to continue discussions - which have been ongoing for more than a year - between the two districts on the idea of sharing certain administrative positions, including a superintendent.
One of the strong points made in the Warner study was that alignment of curriculum between the K-8 district and the high school district is seriously lacking. That was one of the main points brought up Tuesday night by each of the COCSD board members.
Cost savings through shared services has been a major topic all through the discussions, and finding more money to put in the classroom is still a major goal for both districts.
But Tuesday night, alignment of curriculum between the districts was obviously a major goal for all of the COCSD board members.
Jason Finger asked each board member to mention what his or her top concern is for considering moving forward with shared service and possibly a shared administration.
Each member mentioned curriculum as a major concern.
Janice Rollins said that, according to the study, curriculum is a big problem.
Finger pointed out that, according to the Warner study, the districts are falling short on alignment of curriculum. He said that saving money might not be as important as aligned curriculum.
Rollins said that without further study, the district cannot even address the issue of sharing an administration.
But Finger disagreed. He said that the focus so far has been on the MUHS board's search for a superintendent.
"They have a half-time superintendent," Finger said. "We need to talk about their search."
COCSD Superintendent Barbara U'Ren said what is needed more than anything else is to have an expert in curriculum come in and help the districts.
She said the lack of alignment of curriculum is nobody's fault.
"There has been a lack of continuity of leadership at Mingus," U'Ren said.
Finger said he doesn't want to study this issue forever. He said he would like to move ahead with looking into this with Mingus.
The board directed the administration to contact a school district in Illinois that was discussed in the Warner report to ask how that district decided between using shared services or unification with another district.
Finger said he wants to meet with the MUHS board again to see what they are currently thinking.
More like this story