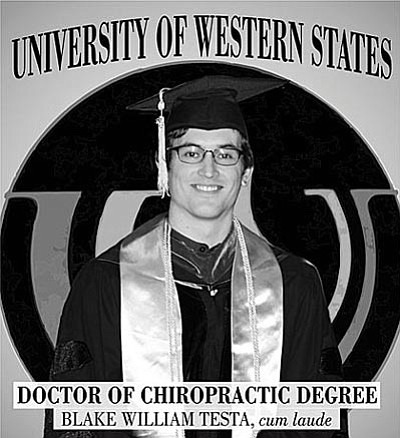 Originally Published: July 13, 2013 2:49 p.m.
Blake Testa graduated cum laude from the University of Western States in Portland, Oregon on June 21, 2013.
He received his Doctor of Chiropractic Degree and will complete his Master of Science in Exercise and Sports Science degree in December 2013. Blake attended K-8 at Clarkdale-Jerome School, graduated from Mingus Union High School and earned his Bachelor's Degree in Sociology at ASU Tempe in 2010.
Blake currently resides in Portland and plans to work and reside in the Northwest. Besides being a full time student he still finds time to play guitar, ride his bike everyday, rock climb at every opportunity and brew his own beer.
A family celebration in his honor was held on June 21, 2013 in Portland attended by his parents, Gregg & Betty Testa, his brother, Brandon Testa, his grandmother, Pat Parker and many friends. His entire family is extremely proud of Blake's accomplishments and know that he will be successful in all of his future endeavors.
More like this story